Couples
The romantic paradise: the Cape Verde islands are perfect for couples in love with nature, water sports or a quiet getaway together.
Cabo Verde is an excellent destination for couples due to its unique combination of natural beauty, paradisiacal beaches, warm climate, year-round sunshine and a relaxed and romantic atmosphere.
The tropical hot climate throughout the entire year with average temperatures ranging between 24°C and 30°C makes it perfect for those seeking to escape from colder locations and unstable weather conditions.
With its history and culture strongly influenced by African, Portuguese and Brazilian traditions, the Cape Verde archipelago has much to offer visitors. From experiencing local music or sampling typical cuisine to admiring colonial architecture, cultural festivals, museums and historic sites – there's something for everyone here.
There's a wide variety of luxurious hotels and resorts on the islands that offer special packages tailored towards couples visiting. These can include romantic dinners by the beach, couple massages as well as other activities - some more intimate while others are geared towards sports enthusiasts.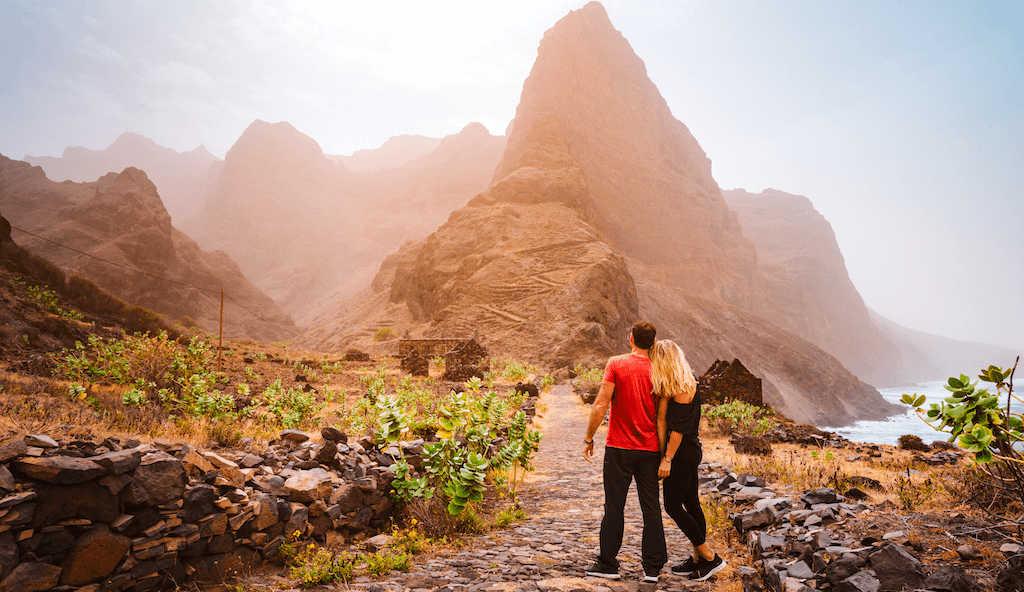 Island of Sal: for unforgettable moments relaxing with your significant other.
The Isle of Sal, a famed tourist haven, calls to global wanderers, beckoning with its sun-kissed beaches, crystalline warm waters, and pristine white sands.
Yet, Sal Island offers more treasures; water sports, diving, fishing, and boat tours beckon to the adventurous soul.
Its shores are lined with many a romantic resort and seaside hotel, a haven for those yearning to bask and rejuvenate under the sun.
Some of the unforgettable locales to explore on this island include:
Ponta Preta
A place of unmatched allure, its lunar-like terrain is marked by expansive white sands, beckoning one for leisurely strolls and fun.
Today, it serves as a rendezvous for international windsurfing championships.
This natural treasure is also a vital nesting ground for Cape Verde's Caretta Caretta turtles. Its sparse vegetation boasts Ipomoea brasiliensis, Sporobolus virginicus, Heliotropium curassavicum, and Ruppia marítima.
Shark Bay
Known too as Baía do Pardo, it's a corner of Sal Island where one can witness and engage with various shark species.
This bay stands as a meeting point for divers and shark aficionados wishing to witness these majestic beings in their natural habitat. Particularly renowned for its array of sharks like the lemon, tiger, blue, and black-tip reef sharks, drawn here due to the abundant food and unique marine topography.
Buracona
An iconic sightseeing spot of Sal, both above and below the water's surface.
Buracona, located on the island's west, is geologically and scenically significant, boasting unique volcanic forms of eroded basalt columns, likened to a vast cobblestone area. It also features unique caves and a clear-water natural pool connected to an underwater tunnel.
Here, sunlight creates the "blue eye" - a mesmerizing reflection and refraction phenomenon.
This locale is ideal for swimming and diving. Its surroundings flourish with endemic flora like the well-known Mostarda Braba (Diplotaxis glauca) and birds like the Pardal de terra (Passer iagoensis).

Pedra de Lume
A striking feature on Sal Island, this submerged volcanic crater holds a saline lake and salt pans, narrating tales of salt production.
This exceptional site, part of Sal's northeastern side, is within an extinct volcano's crater, situated above sea level and away from a sheltered cove. In the past, this crater connected with the sea, allowing seawater to infiltrate and, upon evaporation, deposit an estimated salt reserve exceeding fifty million tons. Since 2004, it's been a part of Cape Verde's UNESCO Indicative List.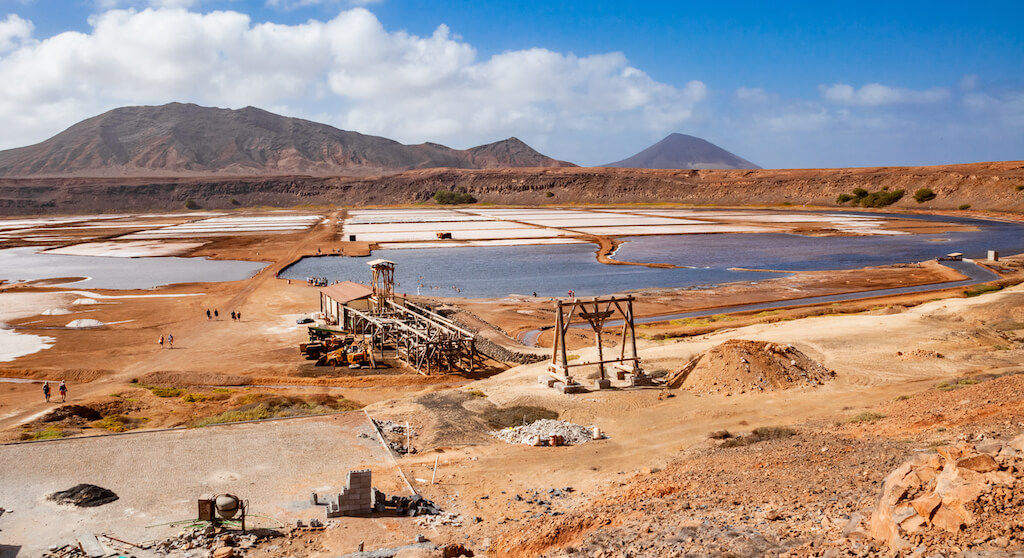 Espargos
Espargos is a captivating destination, boasting vibrant culture, picturesque vistas, and warm hospitality. This enchanting town is a melting pot of cultures, inviting travelers to immerse in the local way of life. It houses landmarks like the Sal Cultural Center, showcasing Cabo Verde's art, music, and dance.
Espargos is an idyllic retreat from Sal's bustling city life. Though it lacks resorts, numerous lodgings like inns and hotels are available.

Kitesurf and Windsurf
Thanks to its favorable wind conditions, Sal Island is a hotspot for kitesurfing and windsurfing, with Santa Maria Beach being a popular gathering spot for these water sports.
Island of Boa Vista: stunning beaches and unparalleled tranquility.
This island is more tranquil and its beaches are more secluded. It's ideal for those seeking a more romantic and serene environment, yet there are plenty of options for outdoor activities.
Here, you can visit:
Deserto de Viana
On Boa Vista Island lies the delicate ecosystem of Deserto de Viana, presenting its visitors with breathtaking landscapes marked by vast white sand dunes.
Porto de Sal Rei
Travelers often find themselves at Porto de Sal Rei upon arriving at Boa Vista. Here, they embark on journeys through Sal Rei city and its surroundings, rich in cultural and architectural influences, echoing Cape Verde's diverse history.
Povoado de Curral Velho
The southern coast of Boa Vista hides the ghostly village of Curral Velho. Here, visitors can wander through old building ruins and then bask on the pristine neighboring Curral Velho beach.
Praia de Chaves
Kissed by the wind, Praia de Chaves stands as one of Boa Vista's finest spots to rest, soak up the sun, and take seaside strolls.
Island of Santiago: to discover its history and natural beauty.
The island of Santiago is the largest island in Cape Verde and offers a fascinating blend of culture and nature.
It is the perfect place for those who wish to explore and visit historical sites, such as the Cidade Velha, considered a World Heritage Site by UNESCO.
Among the places to visit are:
Beaches
The beaches of São Francisco, Tarrafal, and Cidade Velha are revered as Santiago's most exquisite, with clear, shimmering waters and fine white sands.
São Francisco Beach: is one of the most famous and popular in the city of Praia. This beach also offers calm waters and a peaceful atmosphere, perfect for relaxing and taking a getaway. It is located in the city of Praia, on the south coast of Santiago Island. One of the notable features of Praia de São Francisco is the beautiful sunset that can be enjoyed from the beach.
Tarrafal Bay Beach: In addition to its beautiful sands and turquoise waters, this beach also has a charming fishing community and a relaxed atmosphere, ideal for relaxing.
Cidade Velha Beach: Situated in the heart of Cidade Velha (Cape Verde's first city), this beach combines history and natural beauty, offering stunning views of the ocean and mountains.
Serra da Malagueta
This mountain range that stretches through the center of the island is excellent for hiking on trails with panoramic views, unique flora and fauna like Ribeira da Barca Trail, Ribeira Grande Trail,Ponta do Sol Trail,and Serra da Malagueta Trail.
Museum of Tabanka
A small but important museum dedicated to traditional Cabo Verdean music called Tabanka.
Cidade Velha
In the old colonial city, considered a world heritage site by UNESCO; good visits include ruins of historic fortresses from the first European settlement in the tropics and churches like Nossa Senhora do Rosario and Sao Filipe.
Island of Santo Antão: for nature lovers and hiking trails.
The stunning landscapes and hiking trails of the island of Santo Antão make it a great option for those who love adventure and outdoor activities such as hiking, cycling, and trekking.
Among the places worth visiting are:
Curralinho Beach
An idyllic place for relaxation, seaside walks, swimming, or simply marveling at Santo Antão's awe-inspiring natural beauty.
Paul Valley
In Vale do Paul, lush vegetation blankets a myriad of breathtaking mountainous landscapes. This valley is adorned with beautiful terrace plantations, where sugarcane, bananas, and cassava flourish.
Boat trip
Excellent for getting to know the coast of Santo Antão with its cliffs, beaches and coves from a different perspective.
Romantic dinner
Many restaurants on this island offer stunning views and good Cape Verdean cuisine.
Explore Cabo Verde
Sun and beach, mountain trails, landscapes of a nature that so easily springs up everywhere and a wealth of customs and traditions that does not translate into any price: Cabo Verde is a paradise that rests by the sea.
With the morabeza of the people and the magic that is only found in Islands of sun and sea, this archipelago is a universe of experiences to discover.
Flavors, smells and colors permeate memories and here you can feel the warm breeze on the skin and the sweetness of life.
Travel Wise
Getting to know a new country is synonymous with new adventures. Each country is a country. It is a different culture, with its own laws, customs, tastes and peculiarities distinct from any other part of the world.
Preparing your trip in advance can save you some challenges.
Here you can find the most frequent questions of travelers and some tips so that you can get to know the country smoothly.
Newsletter
Sign up for our newsletter and discover travel experiences you'll really want to try.