Santiago Island
Santiago, the largest island in Cape Verde, is home to the capital, Praia, and stands out for its rich cultural diversity and for some of the most important events in the country. Here you live restlessness, fun, new experiences, with endless plans to make each day different and unforgettable.
992 km²
Total Área
1.392 m
Pico da Antónia is the highest point of the island
GPS
14,9205° N, 23,5087° W
300.000
People
HISTORY AND DEEP AFRICAN ROOTS
Santiago is the biggest island in the archipelago!
In the city of Praia, capital of Cape Verde, lives more than half of the country's population.
Santiago was discovered in 1460 by Portuguese explorers and quickly became an important center for the transatlantic slave trade.
The island has a long and tumultuous history, marked by periods of colonization, rebellions and independence movements.
In addition to Praia, other important cities on the island worth mentioning are Tarrafal, Assomada and Cidade Velha.
Tarrafal, once a Portuguese penal colony, whispers tales of bygone eras through the ruins of its prison, the erstwhile Concentration Camp of Tarrafal, and the Resistance Museum.
There, exhibitions shed light on the nation's colonial past and its spirited quest for independence.
Assomada, the heartbeat of Santa Catarina, is revered as Cape Verde's granary.
Its marketplace, the country's pioneering hub, magnetizes souls from all corners of the island daily.
The Old City - once known as Ribeira Grande - stood proud as the archipelago's first capital and was bestowed city status in 1533, thus standing as the earliest city birthed in the tropics by Europeans.
Deemed the cradle of our national identity, it's hailed as one of the 7 Portuguese wonders of the world and now graces the list of World Heritage Sites.
Santiago boasts of contrasts: vertiginous mountains, barren landscapes, and after a sprinkle of rain, valleys flourish in verdant splendor.
Echoes of the colonial era, from pirate raids to the slave trade, remain etched, some manifested as ruins.
The markets pulsate with life, fortresses of African heritage, resonating with traditional tunes, bounteous crops, crafts, and flavors that tantalize the soul.
Santiago's tumultuous past did not shatter its people. Their indomitable spirit shines through the essence of morabeza, a generous and embracing way of life.
Nôs tera, êspera ku sorri - Our land beckons you with a smile.
This embodies the resilience and spirit of the Cape Verdean people, an ode to their remarkable ability to find joy and beauty amidst challenges.
History, Geography, and Culture of Santiago
Nestled in the vast ocean, Santiago Island stretches across 992 km², defined by its rugged terrains, volcanic peaks, and valleys bursting in verdant hues.
The island's crowning glory, Pico da Antónia, reaches a majestic 1,392 meters, standing tall and proud.
Resting at coordinates 14.9205° N, 23.5087° W, Santiago cradles a vibrant community of approximately 300,000 people.
It is a sanctuary of nature's wonders, housing an abundant variety of flora and fauna. From diverse bird species, stealthy lizards to graceful turtles, every corner of Santiago reverberates with life.
Its cultural tapestry is as rich as its landscapes. Santiago echoes tales of its history, diversity, and profound musical traditions.
Genres like funaná, batuque, and morna resonate deeply, captivating both the hearts of locals and those who venture to its shores.
Ceramics, basketry, and embroidery weave intricate patterns, crafting Santiago's unique identity of artistry.
And all this would be incomplete without indulging in the island's culinary delights.
Topping the list is 'cachupa' - a delectable stew, harmonizing maize with beans and an ensemble of beef, goat, and chicken, serving as the cornerstone of Cape Verdean cuisine. A symphony of flavors, it's Santiago's ode to the world.
Exploring the Capital - Praia
Praia, the heart of the Archipelago, is its most populous city, standing as the core of Cape Verde's political, economic, and administrative endeavors.
Its architecture boasts the elegance of Portuguese colonial design, adding a unique charm to the city's landscapes.
At the city's heart lies the Alexandre Albuquerque Square, encircled by the Parish Church, the Courthouse, and the City Hall's grand edifice.
In this square, as the day draws to a close, the local souls convene, sharing tales atop a basalt plateau, aptly named the Plateau.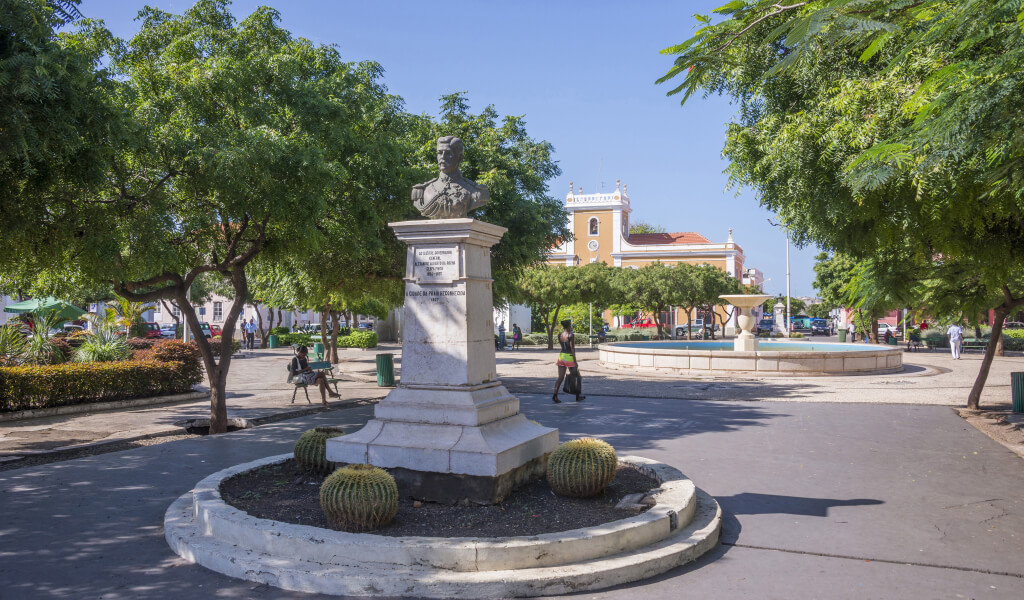 The Amílcar Cabral Avenue, the Plateau's main artery, houses some of the most prominent businesses and establishments, adorned with gardens and terraces that beckon a visit.
Of note are the age-old "defensive lines", immortalized by the Fort and its cannon, ever vigilant, facing the vast sea.
To wander through Praia is to inhale culture, tradition, and curiosities. Discover these in places like the Sucupira Fair, a touch of Africa, offering a medley of wonders, or the renowned Market, where especially the agricultural products carry with them the scent of the island's inner gardens.
This multifaceted city, gifts both its residents and visitors daily with the marine whispers from the stunning shores of Mulher Branca, Prainha, Quebra-Canela, and Gamboa. The latter hosts, come the 19th of May, a celebrated Music Festival
Discovering the Old City
The tapestry of Santiago's history is richly woven in the enchanting Cidade Velha. Nestled within the Ribeira Grande de Santiago municipality, and a mere 15 kilometers west of Praia, the Old City stands as a testament to time.
Cidade Velha is the cradle where Creole culture was birthed, a harmonious fusion of African and European heritage.
As the former capital of Cape Verde, Cidade Velha was a linchpin in the archipelago's early colonial narrative
Today, it wears the crown of a UNESCO World Heritage Site, dotted with several historical landmarks such as:
Fortaleza de São Filipe,
Cathedral of Nossa Senhora da Assunção,
Church of Nossa Senhora do Rosário,
Convent of São Francisco, and
The Pillory.
The city's Pillory, a monument that beckons a visit, dates back to 1520. While the Church of Nossa Senhora do Rosário, the world's oldest colonial church and a gem of Manueline style, has its roots in 1495.
It's worth noting that the first street of Portuguese urbanization in the tropics can be found here - Rua Banana, leading the way to the church.
The Cathedral, bearing tales from 1693, speaks of times when the city's brilliance had somewhat dimmed.
Merely two decades later, it bore the scars of pillage and damage at the hands of French pirates.
By the mid-17th century, a sanctuary and place of learning, the Convent of São Francisco, was established. Alas, it too suffered the same fate, enduring the raid that had ravaged the Cathedral.
But the commanding Monument of Forte Real de São Filipe cannot be missed, towering at an imposing 120 meters. Since 1590, it has steadfastly defended the city from pirate raids and buccaneer onslaughts, standing as a sentinel of Santiago's resilient spirit.
The Natural Splendors of Santiago Island
Santiago Island unveils a wondrous tapestry of natural vistas, from the fiery embrace of volcanic peaks to the serene allure of dreamy shores.
One must not miss the enchantment of the country's sole botanical garden in São Jorge dos Órgãos.
A prime haven for nature enthusiasts is the Parque Natural da Serra da Malagueta, bestowing breathtaking panoramas of the island and its captivating coast.
Nature's other gifts grace the Vale da Ribeira da Barca, Praia de Baixo, and Praia da Calheta de São Miguel.
The island's humid and gentle climate blesses its higher regions with lush greenery, which then contrasts with the stark aridness of its lower terrains
Santiago also cradles a multitude of fauna, hosting:
Tiny reptiles like lizards and geckos,
Beetles,
Endemic insects,
Small primates, and
Birds.
It's estimated that around 105 terrestrial and marine bird species find a home in Santiago.
Of these, twenty-four species are endemic, while the rest are migratory visitors from African and European skies.
Birdwatchers find Santiago to be an ornithological paradise.
Notably, some birds like the marbled teal, short-winged sylph, and kite are on the brink of extinction.
The skies are also adorned with birds of prey such as:
Kestrels or falilies,
Owls,
Hawks, and
Buzzards.
Furthermore, insectivorous birds include:
The blue-feathered sparrow,
Ravens,
Cotton tree sparrows,
Barbary sparrows,
Egrets, and
The Raso lark.
Santiago's marine features, with its soothing water temperature averaging annually at 25ºC, coupled with the existence of coral platforms, cultivate a diverse and rich marine bed. This makes it perfect for spearfishing and diving, particularly in the island's eastern region
Beautiful beaches and scenic trails
Santiago Island thrives with a dynamic rhythm, fostered by an impeccable network of paved roads that wind through both its coastal embrace and the heart of its interior.
Of special note is a 70 km journey through the heartland, linking its southern and northern anchors, Praia City and Tarrafal. These landmarks sprinkle the horizon with their magnificent beaches.
Upon return, one is met with a panorama of expansive banana groves, papaya trees, and towering coconut palms, among other tropical treasures. These testify to the abundance of water gracing the East coast, especially in Calheta, Santa Cruz, and Pedra Badejo.
Santiago proffers a plethora of hiking opportunities, inviting visitors to traverse its picturesque trails.
The Pico da Antónia, standing tall as the island's zenith, remains a favored hiking destination. Those who reach its peak are rewarded with breathtaking vistas of the sweeping landscape below
In the heart of Santiago, Rui Vaz beckons, nestled halfway to the island's zenith, from where one can behold a panorama without equal.
Wanderers find solace in cherished trails:
The pathway through Ribeira da Barca,
The ascent of Serra da Malagueta,
The coastal route of Calheta de São Miguel.
Bathed in geographical splendor, Santiago showers both its dwellers and visitors with bays and coves, mirroring the peace and tender charm of its people
One must not miss the radiant bays of São Francisco and São Martinho, where once alighted the seaplane carrying Gago Coutinho and Sacadura Cabral on their journey to Brazil.
Santiago, the crown jewel, boasts some of Cape Verde's most enchanting shores:
The serene Praia de Baixo,
The beaches of Calheta de São Miguel,
The golden embrace of Gamboa,
The tranquil haven of Tarrafal,
The pristine shores of S. Francisco,
The romantic Praia dos Amores,
The secluded charm of Porto Mosquito,
And the expansive beauty of Angra Beach.
Attending festivals
The island of Santiago is host to many festivals and cultural events throughout the year.
One of the most popular on the island is Gamboa Festival, which takes place in May and brings together music, dance, and traditional food all in one place.
Other unmissable festivities include Assomada's vibrant Carnival and Tarrafal's enthralling Music Festival. Not to mention the jubilant celebration of São João on the 24th of June, a festivity joyously embraced across every island of the archipelago.
Exploring local cuisine
Santiago is renowned for its delectable cuisine, with dishes like cachupa and corn pastries taking center stage.
The island is also famous for its fresh seafood that can be found in many local establishments.
In the capital city of Praia, there's no shortage of restaurants serving up traditional Cape Verdean cuisine.
Pocket Guide to the Island of Santiago
The cultural heritage, breathtaking natural landscapes, and wildlife diversity make a visit to Santiago Island an authentic and unforgettable experience.
Below, find a quick overview of some of Santiago's island most remarkable attractions:
Sun and Beach Attractions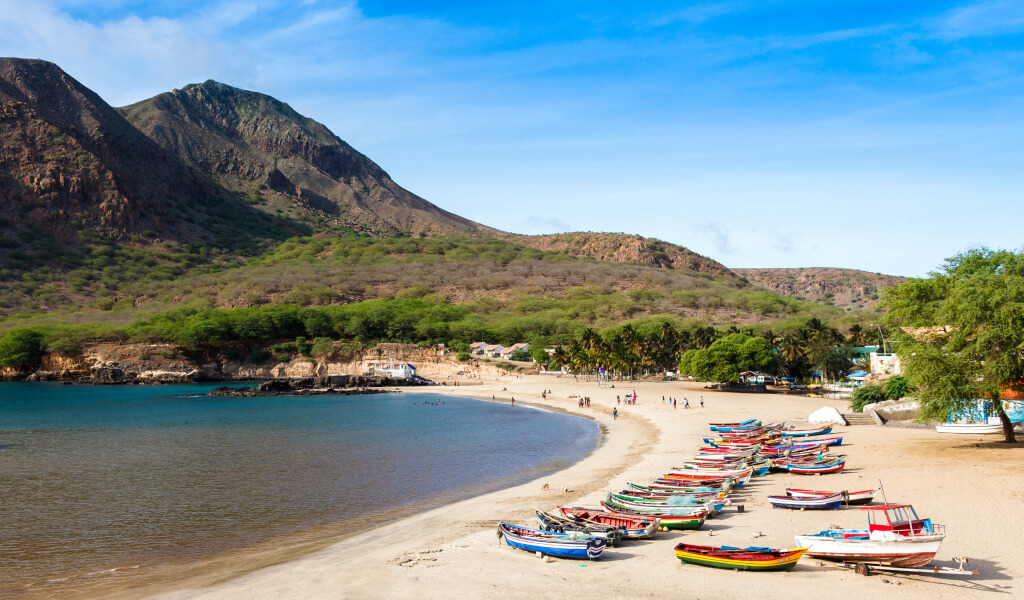 Angra Beach (Assomada)
Areia Grande Beach (Santa Cruz)
Baixo Beach (São Domingos)
Coqueiro Beach (Santa Cruz)
Fazenda Beach (Santa Cruz)
Mangue Beach (Tarrafal)
Porto Mosquito Beach (Porto Mosquito)
Rincão Beach (Assomada)
São Francisco Beach (São Francisco)
Tarrafal Beach (Tarrafal)
Tcharco Beach (Assomada)
Tchom Bom Beach (Tarrafal)
Amores Beach (Calheta)
Prainha (Praia)
Quebra Canela Beach (Praia)
Nature and Adventure Attractions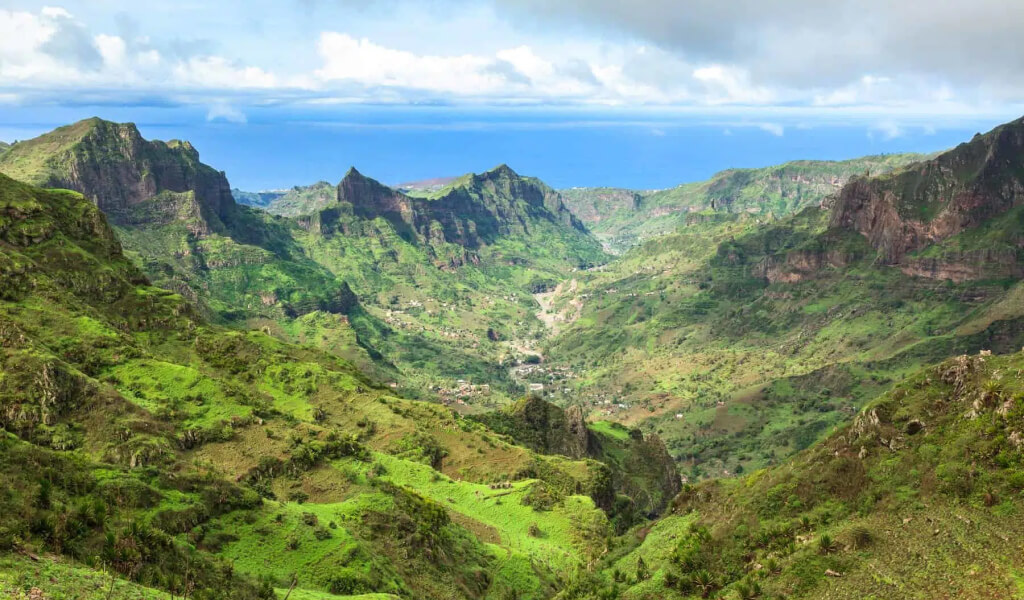 4x4 explorations
Angra Bay (Assomada)
Tarrafal Bay (Tarrafal)
Poilão River Dam (Assomada)
Hike from Tchom Bom to Ribeira Prata (Tarrafal)
Hikes in Tarrafal (Tarrafal)
Hikes in Santa Catarina (Assomada)
Hikes in Santa Cruz (Santa Cruz)
Água Caída waterfall (Assomada)
Maria Pia Lighthouse (Praia)
Dune fossils of Móia-móia (Santa Cruz)
Robão de Cal Cave (São Domingos)
Águas Belas Caves (Assomada)
Hike to Monte Tchota (Rui Vaz)
Bidela Mountain (São Domingos)
ATV biking (Tarrafal)
Turtle nesting observation (Santa Cruz, Ribeira da Prata, Moia Moia, Praia Baixo, Francisco)
Bird watching
Serra da Malagueta Natural Park (Tarrafal)
Monte Tchota Natural Park (Rui Vaz)
Pico D´Antónia Natural Park
Ponta de Atum Natural Pools (Tarrafal)
Ribeira Prata Natural Pools (Tarrafal)
Banana Plantation in Santa Cruz and Pedra Badejo (Santa Cruz)
Porto Mosquito fishing area (Porto Mosquito)
Principal Stream (Tarrafal)
Rui Vaz panoramic views (São Domingos)
Hiking trails in Monte Tchota and Pico D´Antónia
Ribeira da Barca Valley (Assomada)
São Domingos Valley (São Domingos)
Nautic Attractions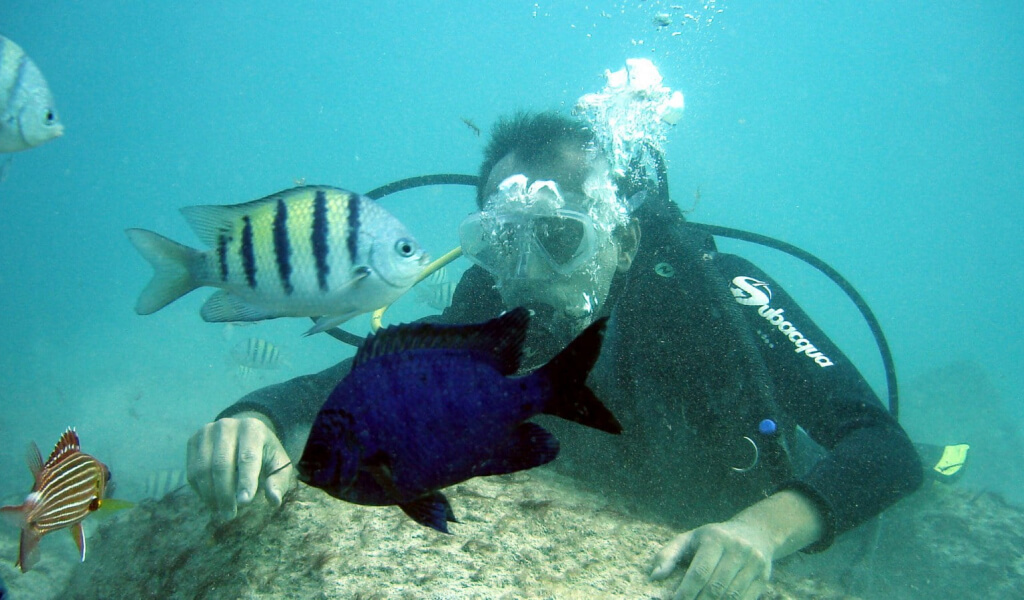 Jet Ski (Tarrafal)
Diving (Tarrafal)
Water Biking (Tarrafal)
Banana Boat rides (Tarrafal)
Boat tours
Sport Fishing
Traditional Fishing
Snorkeling (Tarrafal)
Stand-up Paddleboarding (Tarrafal)
Cultural Attractions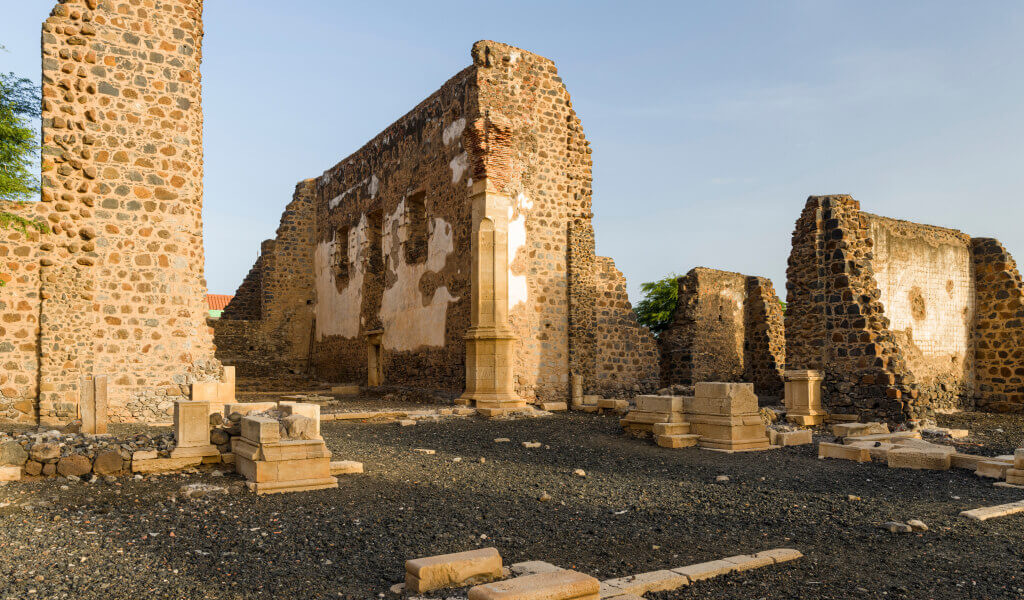 Campus Universitário da Praia (Praia)
House of Amilcar Cabral (Praia)
House of Citizen (Praia)
House Museum of Amílcar Cabral (Praia)
Cultural Center Museum of Tabanka (Assomada)
São Francisco Convent (Cidade Velha)
Cruz de Papa (Praia)
Anjo Mundial Building (Praia)
Africana Pharmacy (Praia)
Maria Pia Lighthouse (Praia)
Areia Grande Festival (Santa Cruz)
Gamboa Festival (Praia)
Gastronomic Festival (São Domingos)
Kriol Jazz Festival (Praia)
Nha Santa Catarina Festival (Assomada)
Nho Santo Amaro Festival (Tarrafal)
Fish Festival (Tarrafal)
Real São Felipe Fort (Praia)
Fundação Amílcar Cabral (Praia)
Hospital Agostinho Neto (Praia)
Assomada Church (Assomada)
Nossa Senhora da Graça Church (Praia)
Nossa Senhora do Rosário Church (Cidade Velha)
Domingos Ramos School (Praia)
Sucupira Market (Praia)
Praia Municipal Market (Praia)
Monument Diogo Gomes (Praia)
Museum ex-Campo de Concentração of Tarrafal (Tarrafal)
Museum Etnografic of Praia (Praia)
Museum Center of Praia (Praia)
Cultura Ildo Lobo Palace (Praia)
Justiça Palace (Praia)
Pelourinho da Cidade Velha (Cidade Velha)
Plateau (Praia)
Port Mosquito (Zona Piscatória) (Porto Mosquito)
Place Alexandre Albuquerque (Praia)
Project of valorização do bairro (Praia)
Quartel Jaime Mota (Praia)
Home of the Republican President (Praia)
Banana Street (Cidade Velha)
D'Arte Street - Terra Branca (Praia)
Engenho Ruins (Engelho)
Sé Cathedral (Cidade Velha)
Banco Comercial do Atlântico Headquarters (Praia)
Mail Post office Headquarters (Praia)
Zone Ponta Belém (Praia)
Other informations about Santiago Island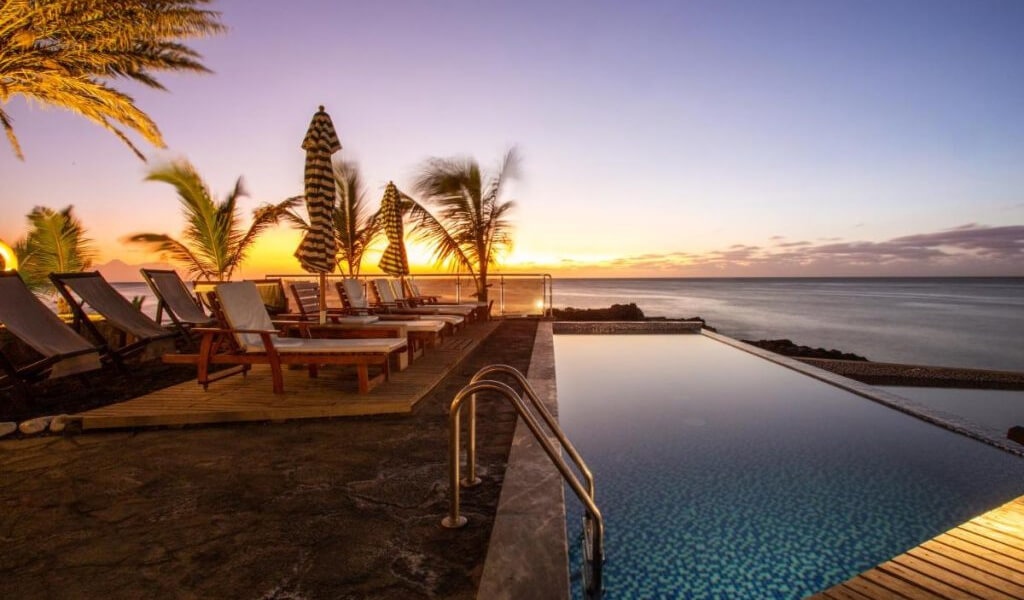 Santiago offers a considerable variety of accommodation options, ranging from luxury hotels to budget guesthouses.
Arriving in Santiago is relatively easy, as the island's main airport, Nelson Mandela International Airport, receives daily flights from various national and international destinations.
The island's rich cultural heritage, stunning natural landscapes and diversity of wildlife make visiting Santiago an authentic and unforgettable experience.
Explore Cabo Verde
Sun and beach, mountain trails, landscapes of a nature that so easily springs up everywhere and a wealth of customs and traditions that does not translate into any price: Cabo Verde is a paradise that rests by the sea.
With the morabeza of the people and the magic that is only found in Islands of sun and sea, this archipelago is a universe of experiences to discover.
Flavors, smells and colors permeate memories and here you can feel the warm breeze on the skin and the sweetness of life.
Travel Wise
Getting to know a new country is synonymous with new adventures. Each country is a country. It is a different culture, with its own laws, customs, tastes and peculiarities distinct from any other part of the world.
Preparing your trip in advance can save you some challenges.
Here you can find the most frequent questions of travelers and some tips so that you can get to know the country smoothly.
Newsletter
Sign up for our newsletter and discover travel experiences you'll really want to try.