Nautic Tourism
Kuzas di nôs ilha, nôs heransha Cabo Verde offers a distinct heritage for water sports lovers
Bem-vindu ku morabeza! Cabo Verde is a destination that welcomes its visitors with a lot of affection and generosity.
A country full of marine nature that attracts water sports. Thanks to the richness of the currents of the Atlantic Ocean, the marine life of Cabo Verde is varied and allows experiences that are only possible to have here. Boa viaji!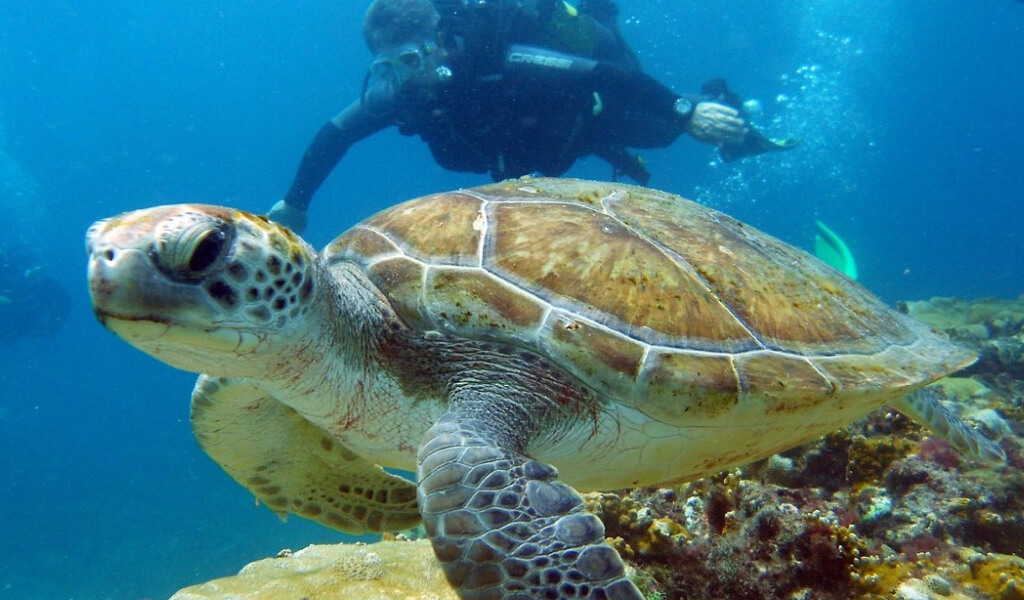 Diving into the depths of the Atlantic
Diving in Cape Verde is an opportunity to discover walls of volcanic rock covered in colorful and marvelous coral, and to come face-to-face with humpback whales on the same dive.
Diving with family has another value! Na nôs tera, nôs tudo ê família, in Cabo Verde wherever you go you will be received as family, which guarantees you the comfort, trust, and safety necessary for the practice of this activity. Nôs povo ta mostra nôs morabeza pa tud visitante ki ta passa na nôs ilha. Yes, the Cape Verdeans are warm, attentive, and very hospitable people, who gift their visitors with fascinating diving experiences.
Sal Island: where you can swim with sharks, sea turtles, and tropical fish;
Santiago Island: these warm and crystal clear waters offer the chance to dive with stingrays, octopuses, sharks, and turtles;
Santo Antão Island: ideal for experienced divers as it has the deepest waters in Cape Verde where turtles and pelagic fish swim;
Fogo Island: the only active volcano in the archipelago provides unique diving experiences through its submerged rock formations and a wide variety of tropical fish.
Snorkeling in crystal clear waters.
The crystal-clear waters of Cape Verde allow for observing a great variety of marine species. Manta rays, white sharks, tigers or hammerheads, lobsters or groupers are some of the animals that can be found while diving.
The islands of Sal and Boa Vista and Santa Maria Bay are some of the best locations in the archipelago for snorkeling as their waters are shallow and currents calm - essential conditions for exploring all the wonders that the underwater world has to offer in a peaceful and attentive manner.
Experienced divers can venture out to discover marine treasures without guidance by renting suitable equipment from designated locations.
For novice divers, the best way to go snorkeling is through a local operator who provides rental equipment along with safety instructions and guided tours to prime dive spots.
Surfing the waves of Cabo Verdean winds
Some of the most sought-after surfing spots are located here, due to excellent wind and wave conditions, but only a few islands have the necessary conditions for its practice.
Santa Maria: on the island of Sal, it is one of the most iconic locations for surfing due to surfable waves year-round that cater to both beginner and experienced surfers.
Ponta Preta: this beach in Sal has world-class surfing. With strong, fast, and aggressive waves, it is only recommended for very experienced surfers.
Punta Sino: on the island of Boa Vista, there are powerful waves suitable for experienced surfers.
Mindelo: with constant waves and excellent conditions, surfing here is suitable for all levels of surfers.
It is extremely important when planning a trip to Cape Verde that attention be paid to existing conditions for surfing as they may vary depending on the time of year. Additionally, having support from local agencies and surf schools is a good option to avoid unnecessary risks.
Globally renowned as a windsurfing and kitesurfing destination.
Thanks to constant winds and Atlantic currents, Cabo Verde is also a popular destination for windsurfing and kitesurfing. So much so that in 2007 and 2022, the archipelago hosted one of the stages of the Windsurf World Cup organized by the World Windsurf Association.
Although various locations have ideal wind and water conditions for practicing windsurfing and kitesurfing, Sal Island and Boa Vista Island are considered top choices. These places also house some of the most popular windsurf and kitesurfing schools.
The best time for windsurfing and kitesurfing is generally from November to May, with the strongest wind conditions usually between January and April.
Paddle (Stand-Up): standing tall, heading towards the painted horizon.
Stand-Up Paddle enthusiasts will find great conditions for practicing this sport in the Cape Verdean islands. Some of the best locations include:
Chaves Beach, on Boa Vista island: calm and warm waters make it perfect for paddleboarding. It's a highly sought-after spot by tourists, with several schools offering classes to visitors and equipment rentals.
Santa Maria Beach, on Sal island: being one of the most popular beaches in Cape Verde, this extensive beach with calm waters is highly sought after by paddleboarding lovers. There are also structures here that allow for equipment rentals and individual or group lessons for less experienced paddlers.
Baía das Gatas, on São Vicente island: a white sand beach with mountains cutting through the horizon makes Baía das Gatas the ideal stage for Stand-Up Paddle lovers.
A sport called fishing
Due to its variety and abundance of fish, Cape Verde has also become an excellent destination for all those who practice sport fishing, with the most sought-after destinations being São Vicente, Santo Antão, Santiago and Boa Vista islands. Nôs djobi pa tude - The Cape Verdeans share everything with everyone, a small sign of this people's Morabeza. Their marine heritage can be enjoyed by all lovers of this activity
Among the various species of fish found in Cape Verdean seas, barracuda, tuna and blue marlin, are the most common in sport fishing.
In Cape Verde's shimmering Atlantic waters, the dance between fishermen and the majestic blue marlin unfolds, peaking between May and August. Close to the sun-kissed shores of the islands, particularly São Vicente and Sal, these "granders" - marlin exceeding 1,000 pounds - make their home.
While the challenge of the catch lures anglers from around the world, respect for these creatures prevails, with catch and release practices ensuring their tale continues, season after season.
Explore Cabo Verde
Sun and beach, mountain trails, landscapes of a nature that so easily springs up everywhere and a wealth of customs and traditions that does not translate into any price: Cabo Verde is a paradise that rests by the sea.
With the morabeza of the people and the magic that is only found in Islands of sun and sea, this archipelago is a universe of experiences to discover.
Flavors, smells and colors permeate memories and here you can feel the warm breeze on the skin and the sweetness of life.
Travel Wise
Getting to know a new country is synonymous with new adventures. Each country is a country. It is a different culture, with its own laws, customs, tastes and peculiarities distinct from any other part of the world.
Preparing your trip in advance can save you some challenges.
Here you can find the most frequent questions of travelers and some tips so that you can get to know the country smoothly.
Newsletter
Sign up for our newsletter and discover travel experiences you'll really want to try.