Santa Luzia Island
Santa Luzia is the only uninhabited island, but it is no less relevant. With an area of 35 km² and the highest point at 395 m above sea water, the island is an important nature reserve, with very diverse and species-rich marine fauna.
34 km²
Total Área
395 m
It's the highest point of the island
GPS
14° 55' N, 23° 31' W
Uninhabited
It's the only uninhabited island
Santa Luzia: a unique ecosystem, where endemic species are vital for the balance of the planet's ecosystem
With a width of five kilometers and a length of 13, Santa Luzia Island is the only island in Cape Verde that is completely uninhabited.
Located in Cape Verdean Barlavento, five miles from São Vicente, the highest point of Santa Luzia stands at an altitude of 395 meters.
Although it's the third-largest island in the archipelago, Santa Luzia is unique in that it doesn't have any settlement due to its lack of water.
However, for a while, Santa Luzia Island contributed to Cape Verde's economy as it was used for cattle raising and orchil extraction.
In the 18th century, a small community decided to make Santa Luzia their home, but severe droughts made living conditions impossible, thus it remains uninhabited to this day.
In 1990, the State of Cape Verde declared Santa Luzia Island as a Public Heritage, and it is now considered one of the most important natural reserves of the archipelago.
Even though it's an island with sparse vegetation and extremely dry, it has contrasting features in its terrain: to the north, there are various cliffs, and to the south, there are white sandy beaches with crystal-clear waters.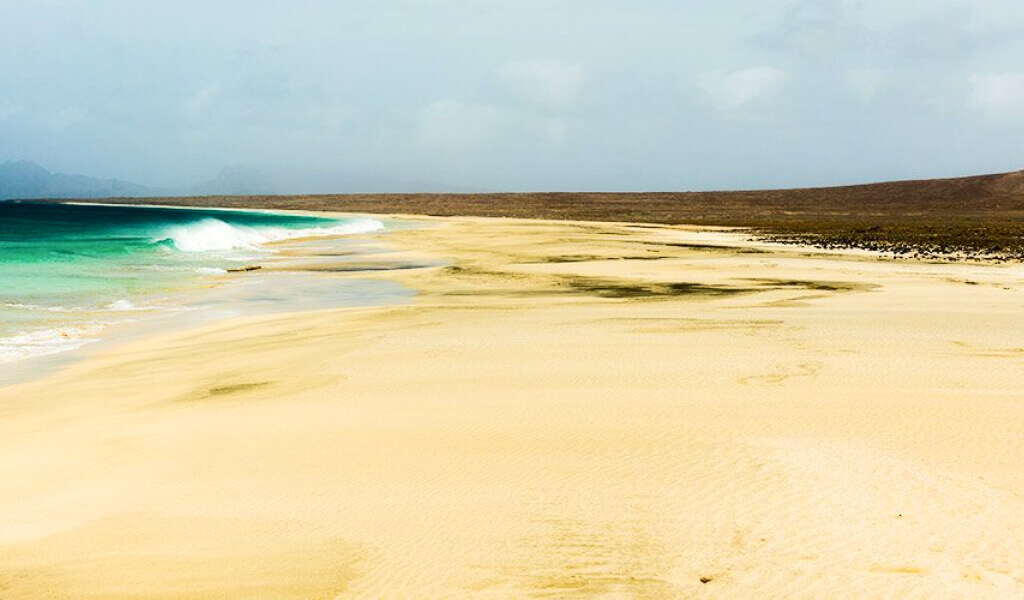 Conservation and recovery of Santa Luzia
The islands of Santa Luzia, Branco and Raso are part of the Santa Luzia Marine Reserve in Cape Verde.
This is the largest protected marine area in the archipelago. This region is of exceptional importance for various endemic species.
However, invasive species and human activities such as livestock grazing have disrupted the native habitat of these islands, resulting in a significant risk to the survival of present species - some even facing extinction.
Thanks to an important effort by entities from several countries such as Portugal and the United Kingdom to restore and protect biodiversity on the island, it has been possible to reverse some of these alterations.
Currently, there are no longer predator nests for sea turtles and there has been an increase in populations of terrestrial reptiles and birds on the island.
The release of sea turtles from captivity
The island of Santa Luzia is an ecological refuge and therefore a crucial nesting site for the loggerhead and hawksbill turtles, which are endangered.
The crystal clear waters of this remote location offer the perfect environment for these ancient creatures to lay their eggs between May and September.
As the sun sets over the rocky shores, the turtles drag themselves up onto the beach and begin their nesting ritual.
With meticulous precision, they dig deep holes in the sand and carefully lay their eggs.
The hatchlings emerge from their sandy incubator and make their way to sea.
The Santa Luzia nesting site is a protected area guarded by vigilant conservationists who ensure both turtle safety as well as that of their offspring. Access to visitors during nesting season is strictly regulated.
The unique ecosystem of Santa Luzia's marine turtle breeding ground is a vital component of our planet's delicate balance.
Protecting and preserving this natural wonder is essential for future generations.
In a rapidly changing world, Santa Luzia's nesting site serves as a reminder of nature's beauty and resilience.
It symbolizes hope and inspiration; it's where man can coexist harmoniously with nature.
Rich and resilient fauna and flora
The local fauna and flora provide a wonderful insight into the entire ecosystem and showcase the resilience of life in harsh environments.
Birdwatching also draws much attention as various species of marine and non-marine birds can be observed on these islands:
Cory's Shearwater
Quail
Stonechat
Black-headed Weaver
Cape Verde Warbler
Blue Rock Thrush
Canary Island Stonechat
Cape Verde Swift
Northern Gannet
Red-footed Booby
Lesser Short-toed Lark
Bar-tailed Desert Lark
Considering that Santa Luzia is part of the Integral Natural Reserve, access to the island has some constraints and therefore can only be reached by boat.
However, authorization from Cabo Verde's General Directorate for Environment is required for access.
Therefore, it is essential to contact one of several tour operators offering guided tours to the island to gain access to one of Cabo Verde's greatest natural treasures.
Explore Cabo Verde
Sun and beach, mountain trails, landscapes of a nature that so easily springs up everywhere and a wealth of customs and traditions that does not translate into any price: Cabo Verde is a paradise that rests by the sea.
With the morabeza of the people and the magic that is only found in Islands of sun and sea, this archipelago is a universe of experiences to discover.
Flavors, smells and colors permeate memories and here you can feel the warm breeze on the skin and the sweetness of life.
Travel Wise
Getting to know a new country is synonymous with new adventures. Each country is a country. It is a different culture, with its own laws, customs, tastes and peculiarities distinct from any other part of the world.
Preparing your trip in advance can save you some challenges.
Here you can find the most frequent questions of travelers and some tips so that you can get to know the country smoothly.
Newsletter
Sign up for our newsletter and discover travel experiences you'll really want to try.