Culture & Art
If it is true that Cape Verde is a destination that enchants with its natural riches, it is no less true that this land is made up of history and culture. African and European legacies blend here, making the destination even more captivating.
Nôs Heransa di Kultura di Cabo Verde ta um tesôru valioso ki fla sobri nos raiz i identidadi. El ta manifesta na nos múzika, kantiga, dansa, gastronomia, artesanatu i mais. É un património ku nu ta prezerva i partilha ku orgulhu pa geraçon futuru - Our Cape Verde Cultural Heritage is a valuable treasure that speaks of our roots and identity. It is expressed through our music, songs, dance, gastronomy, craftsmanship, and more. It is a heritage that we preserve and proudly share with future generations.
Island of Santo Antão: culture with touches of art
Blue and vast sea, rocks embedded in the horizon, and lush valleys mark the wonderful landscape of Santo Antão island. But there is much more to discover beyond natural beauty.
Monuments
Fort São João Baptista
Houses of the Islands
Churches
Church of Our Lady of the Rosary
Urban Art
Mural by artist Hérmano Monteiro
Murals from the Mauroland project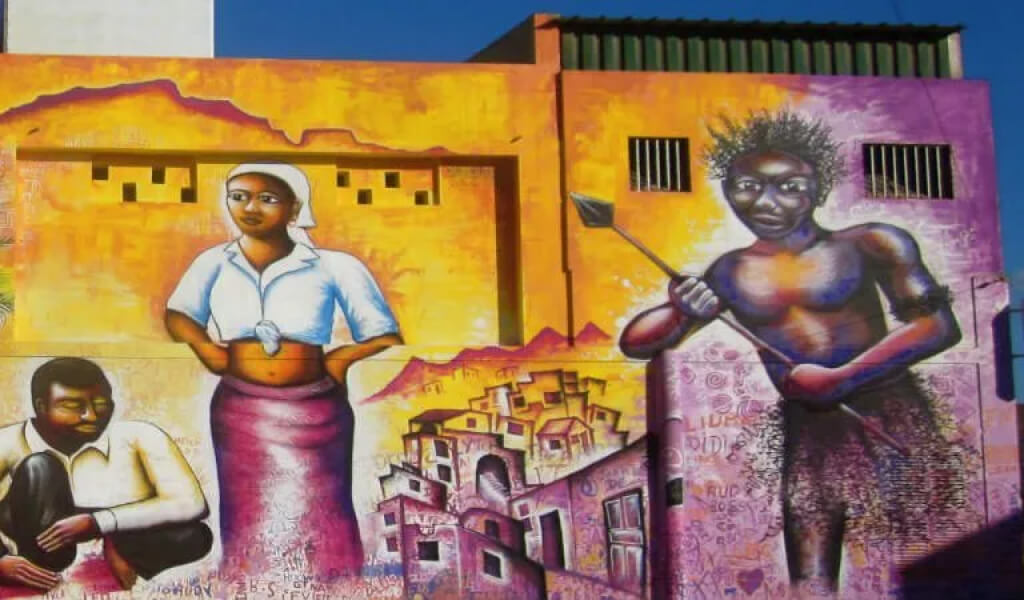 Crafts
Basketry
Woodworking
Weaving
Traditions
-Carnival
-Saint John's Day celebration
-Morna music
Island of São Vicente: "Land of peace, land of joy"
São Vicente boasts a strong cultural heritage that deserves to be celebrated.
Monuments
Diogo Gomes Monument
Palace of the People.
Fortim do Rei
Churches
Nossa Senhora da Luz Church
Cathedral Nossa Senhora da Luz
São Francisco Church

Urban Art
Urban art has been gaining prominence on the streets of São Vicente.
Handicrafts
Embroidery, ceramics and crafts.
Traditions
Baía das Gatas Festival
Saint John's Day
Santa Luzia Island
As an uninhabited island, cultural activities are non-existent.
Island of São Nicolau: Sodade / Dess nha terra São Nicolau
São Nicolau is synonymous with resilient people, legends and beliefs, and stories told under a hot sun.
Monuments
Casa da Dona Chiquinha (House of Dona Chiquinha)
Fortim de São Francisco (Fortress of São Francisco)
Former Tarrafal Concentration Camp
Churches
Matriz Church of Our Lady of the Conception
Chapel of Our Lady of the Rosary
Urban Art
Nhu Txada d'Santanton Festival
Handicrafts
Weaving, ceramics, embroidery and wooden musical instruments.
Traditions
Morna Festival
Nha Santa Catarina Festival.
Ilha do Sal is living heritage
Known for its white sandy beaches, Ilha do Sal is also rich in culture.
Monuments
African Diaspora Monument
Churches
Church of Santa Maria
Church of São Francisco de Assis
Church of Nossa Senhora da Graça
Chapel of Santa Catarina

Urban Art
On Ilha do Sal, urban art explores the Cape Verdean culture and history and can be admired predominantly in Santa Maria, Espargo, and Kite Beach.
Crafts
Craftsmen use a variety of materials such as shells, straw, wood, and fabric to create unique pieces.
Traditions
The traditions on Ilha do Sal revolve around music which is an integral part of the island's culture.
Boa Vista Island: Traditions that span through time
Boa Vista is an island with a rich and diverse cultural history.
Monuments
Fort of São João Baptista
Morro Negro Lighthouse
Cabral Statue
Churches
Our Lady of the Conception Church
Saint Anthony's Church
São João Baptista Church

Handicrafts
Ceramic pieces, embroidered items, and hand-carved wooden objects.
Traditions
Traditional dances like morna, coladeira, and funaná are some of the highlights of the island.
Maio Island: A piece of paradise
Warm, peaceful and protected. That's how Maio Island is described, a small piece of paradise in the middle of the Atlantic.
Monuments
Maio Lighthouse
House of Culture
Churches
Church of Our Lady of Light

Handicrafts
Basketry and wood sculptures and weaving.
Traditions
Religious festivals
Carnival
Island of Santiago
Giant mountains, verdant valleys, and colonial marks fill the island with unique contrasts. A true bastion of African culture where memories persist.
Monuments
Royal Fort of São Filipe
Convent of São Francisco
Praia Lighthouse

Churches
Cathedral of Our Lady of Grace
Church of Our Lady of Light
Church of Our Lady of the Conception
Urban Art
Inspired by Cape Verdean culture and social themes.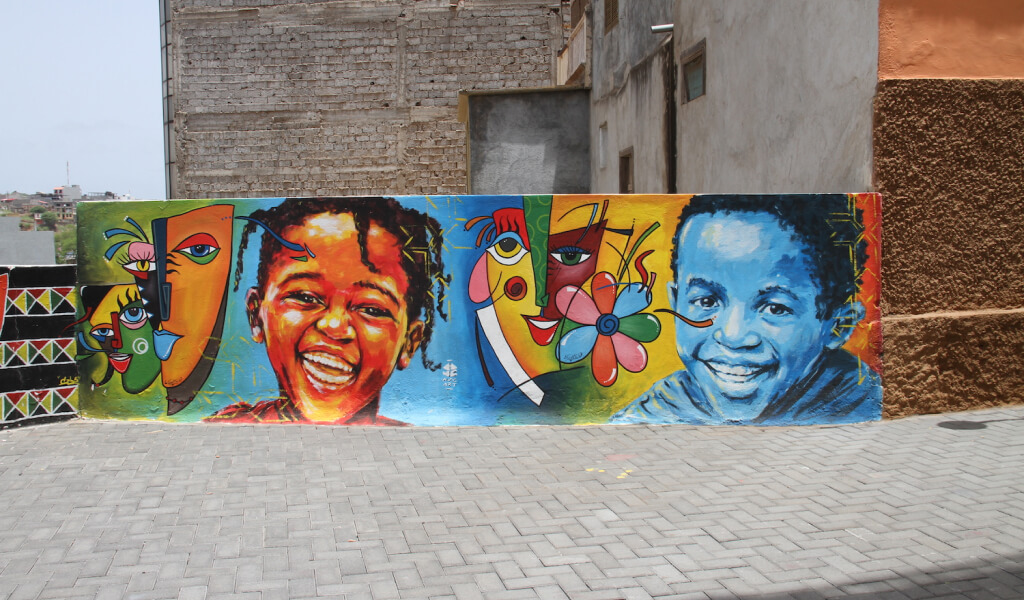 Handicrafts
Many materials are used to construct unique pieces that reflect the history and culture of the people.
Traditions
Morna music, food, and carnival are all highlights.
Ilha do Fogo: The home of the volcano is steeped in traditions.
Despite its rugged appearance, Ilha do Fogo is a living repository of culture and art.
Monuments
São Filipe Municipal Museum
Old Town of São Filipe
Churches
Nossa Senhora do Socorro Church
São Lourenço Church
Santo António Church

Street Art
On Ilha do Fogo, street art is on the rise and vibrant, colorful murals can be seen throughout the island.
Handicrafts
Pottery, jewelry-making, and wooden sculptures are popular handicrafts on the island.
Traditions
Festival de São Filipe
Traditional dances
Ilha Brava: Capital of vibrant flowers and colors
Brava is a place filled with charm and hidden treasures. It's also a land of unique flavors and strong traditions.
Monuments
Dona Amélia Lighthouse
Eugénio Tavares' House
Churches
Nossa Senhora do Monte Church
São João Baptista Church
São Pedro Chapel
Handicrafts
Basketry and weaving using palm tree and banana straw.
Traditions
There is a strong musical tradition on the island, as well as religious celebrations during Easter Week and Christmas.
Rich and Colorful Cuisine
Creole cuisine is rich, colorful, and extremely diverse. Fish is one of the most common ingredients used, along with aromatic herbs, spices, and corn. Some of the most typical dishes and delicacies include:
Cachupa: made with meat or fish, stewed beans and corn served with cooked vegetables, potatoes, and boiled bananas.
Sweated Lobster: lobster is a highly utilized ingredient in Cape Verdean cuisine. With a strong taste of garlic, lemon zest and a hint of spice it's one of the most sought-after delicacies.
Modje: fried or grilled fish with spicy onions and tomato sauce.
Fried Moray Eel: breaded moray eel that's truly delicious.
Xerém: creamed ground corn that's served as an accompaniment to fish or meat dishes.
Fish Pasties: savory pastry filled with fish cooked in onion, garlic tomato sauce enriched by fragrant herbs.
Cassava Fritters with Honey Syrup: traditional cassava fritters fried then coated in honey syrup for added sweetness.
Traditional Beverages: The pontche stands out - a fruit-based or honey drink mixed into grogue (a high alcohol content sugar cane distillate).
Overall this cuisine offers unique flavors you won't find anywhere else!
Explore Cabo Verde
Sun and beach, mountain trails, landscapes of a nature that so easily springs up everywhere and a wealth of customs and traditions that does not translate into any price: Cabo Verde is a paradise that rests by the sea.
With the morabeza of the people and the magic that is only found in Islands of sun and sea, this archipelago is a universe of experiences to discover.
Flavors, smells and colors permeate memories and here you can feel the warm breeze on the skin and the sweetness of life.
Travel Wise
Getting to know a new country is synonymous with new adventures. Each country is a country. It is a different culture, with its own laws, customs, tastes and peculiarities distinct from any other part of the world.
Preparing your trip in advance can save you some challenges.
Here you can find the most frequent questions of travelers and some tips so that you can get to know the country smoothly.
Newsletter
Sign up for our newsletter and discover travel experiences you'll really want to try.