Nature & Adventure
The volcanic adventure of Cape Verde: born from fire, this is an archipelago of volcanoes and breathtaking landscapes.
Nha Cabo Verde, aventura vulkánika: Nasidu di fogo, és nôs arquipélagu di vulcôis i paisagens impurissáv.
Despite having three volcanoes in Cape Verde - Fogo, Brava and Santo Antão - the entire archipelago is made up of stories and memories of fire and lava, giving the islands a very strong personality. Although there has been no volcanic activity since the settlement of Brava and Santo Antão, the volcano on the island of Fogo is still active.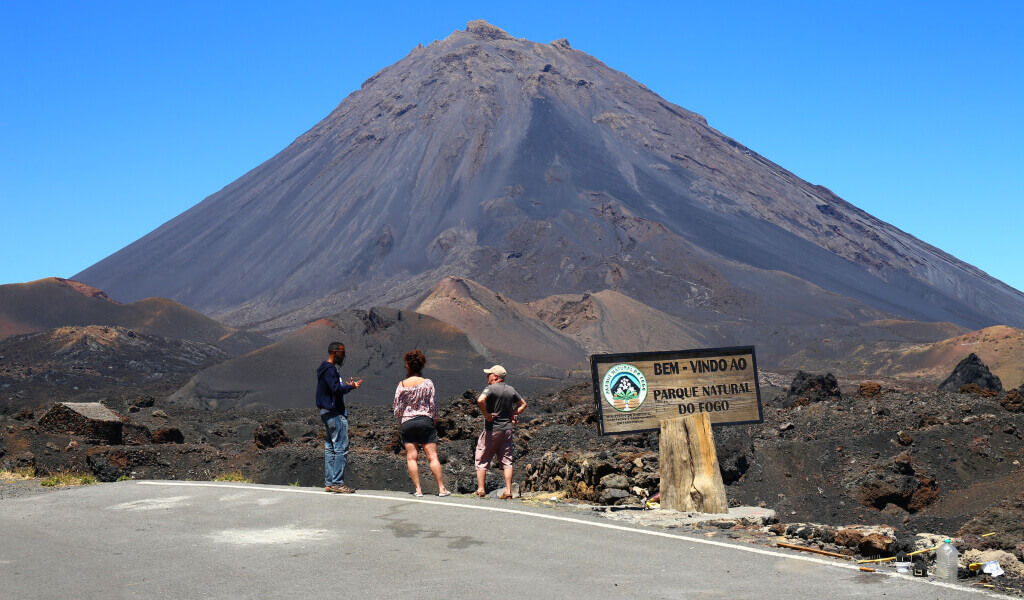 Vulcão do Fogo: the grandeur of a giant
The Volcano of Fire is the highest point in the entire archipelago and also the only active volcano in Cape Verde. In 2014, it spewed rivers of lava but despite this, safety for residents and visitors is fully guaranteed. At the cone of the volcano, which rises to 2829 meters above sea level, the arid landscape is marked by agricultural production. Here, vineyards are cultivated responsible for producing a high alcohol content wine with a very distinctive taste.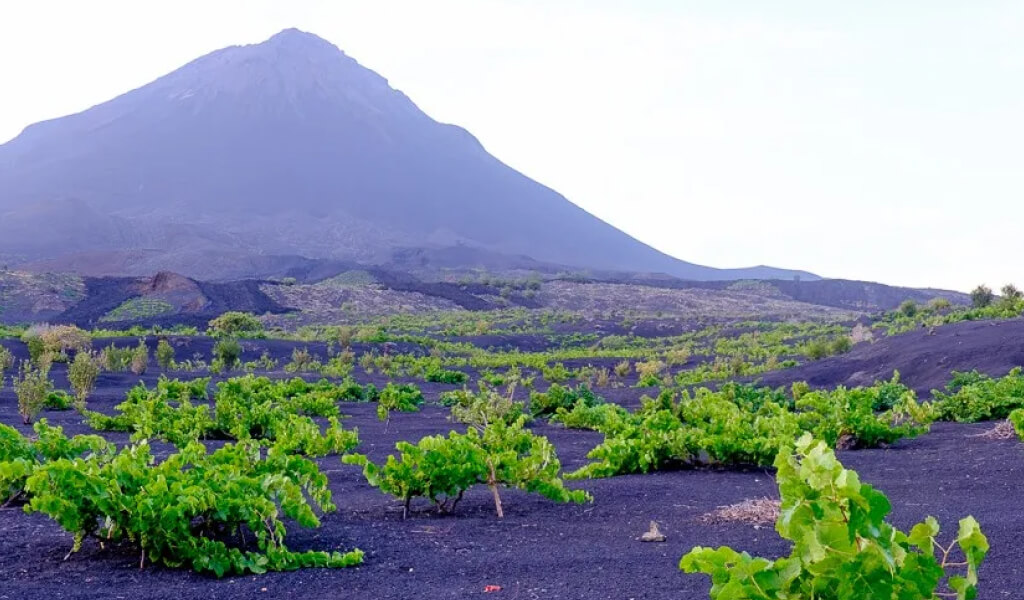 How to get to Volcano of Fire
To reach the top of Volcano of Fire, it's worth hiring a mountain guide to lead you on your six-hour hike due to its steep incline and endless natural wonders unique only to this island such as Fumaroles - small openings in the ground through which volcanic gases like sulfur are released - and lunar-like colors and textures caused by volcanic stones and ashes.
Support Services
Travel agencies are best suited for safe exploration organized around this island. The Chãs das Caldeiras Tourist Guides Association also offers guide services.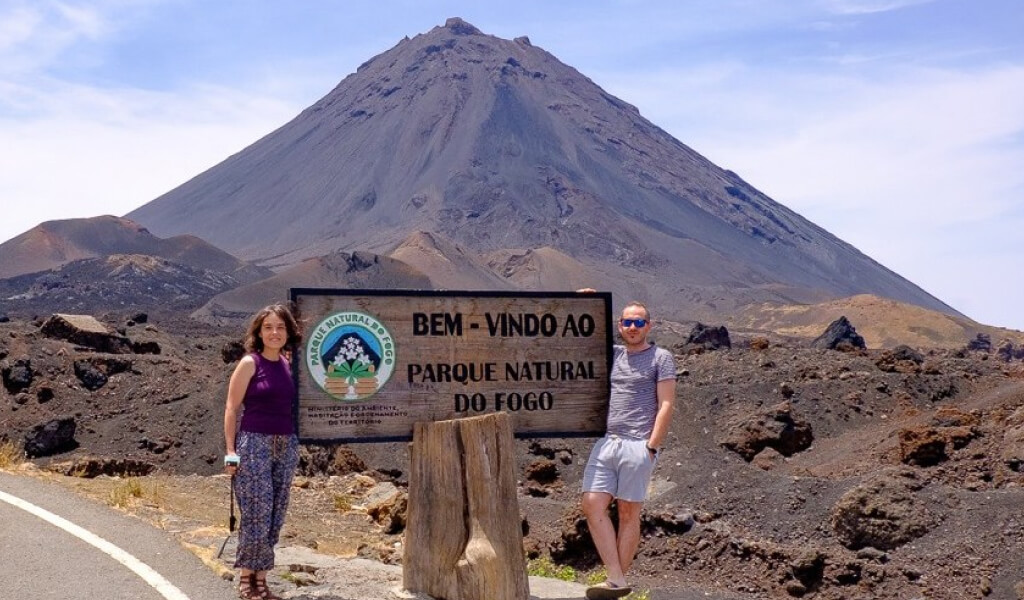 Precautions
Stay hydrated, use sun protection measures, wear comfortable footwear.
What To Do On The Island Of Fogo
Hike up Pico do Fogo - summit at Volcano of Fire;
Climb Pico Pequeno - subsidiary exit from volcano;
Walk along Caldeira until Mosteiros;
Visit Winery at Chã de Caldeiras.
Brava Volcano: Merging with the Sea and History
The island has several volcanic evidences throughout its territory, but it is in Fundo Grande where one of the largest volcanic craters on the island is located. The Caldeira, as it is locally known, has a diameter of about 1.5 kilometers and is surrounded by steep cliffs of volcanic rock.
How to Get to the Brava Island Volcano
To get to Caldeira in Fundo Grande, it's important to have the support of local tourist guides because although there are several trails and pedestrian routes and walking isn't extremely difficult, the area is risky and there are various instructions from local authorities that must be followed.
Support Services
On the island, there are a series of transportation services both private and public. Hotels also provide excellent quality support services.
Careful Considerations
Hydration, sun protection, and comfortable footwear should be taken into consideration.
What to Do in Brava
Appreciate idyllic landscapes at lookout points:
MiraGrandeza;
MiraGloriosa;
MiraGraciosa;
MiraBeleza;
Nova Sintra;
Visiting the huge crater at Fundo Grande;
Visit Natural Pools at Fajã de Água;
Go hiking:
Trilho do Mato until Pico das Fontaínhas;
Trilho do Mato Grande until Chão de Aguada Cachaço;
Trilho between Furna e Vinagre.
Santo Antão Volcano
Santo Antão is renowned for its rugged topography, deep valleys, and stunning landscapes formed by its volcanic origins. Cova do Paúl is one of the prime examples of these landscapes on the island.
Situated in the northern region of Santo Antão, Cova do Paúl is an extinct volcanic crater, now transformed into a fertile valley.
The crater's bowl, with its deep concave shape, cradles a patchwork of agricultural fields, creating a spectacle that is a feast for the eyes.
The terraced fields here are cultivated with an array of crops, from sugarcane and bananas to maize and beans, presenting a colorful mosaic against the backdrop of rugged volcanic ridges.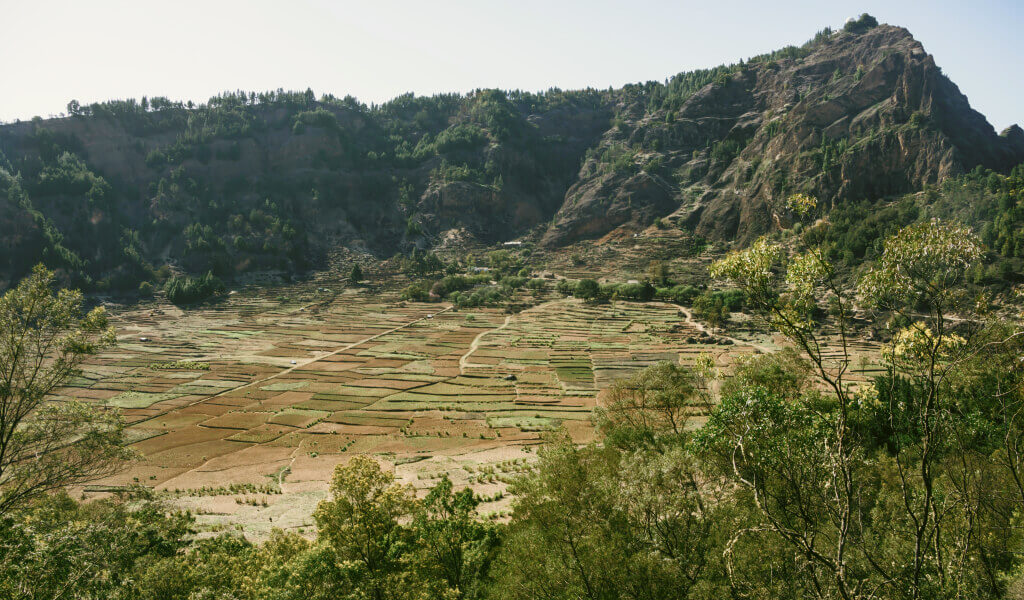 How to get to Santo Antão Volcano
Once in Porto Novo, you can arrange for a taxi or join a guided tour to visit Cova do Paúl. The route from Porto Novo to Cova is quite scenic, passing through craggy landscapes, terraced fields, and steep valleys
The journey to Cova do Paúl is an experience in itself. With every turn, the scenery unfolds like a living painting, with the crater gradually revealing itself in its full splendor.
For those keen on hiking, Cova do Paúl offers numerous trails that meander through the crater's heart, offering unique perspectives of this geological wonder.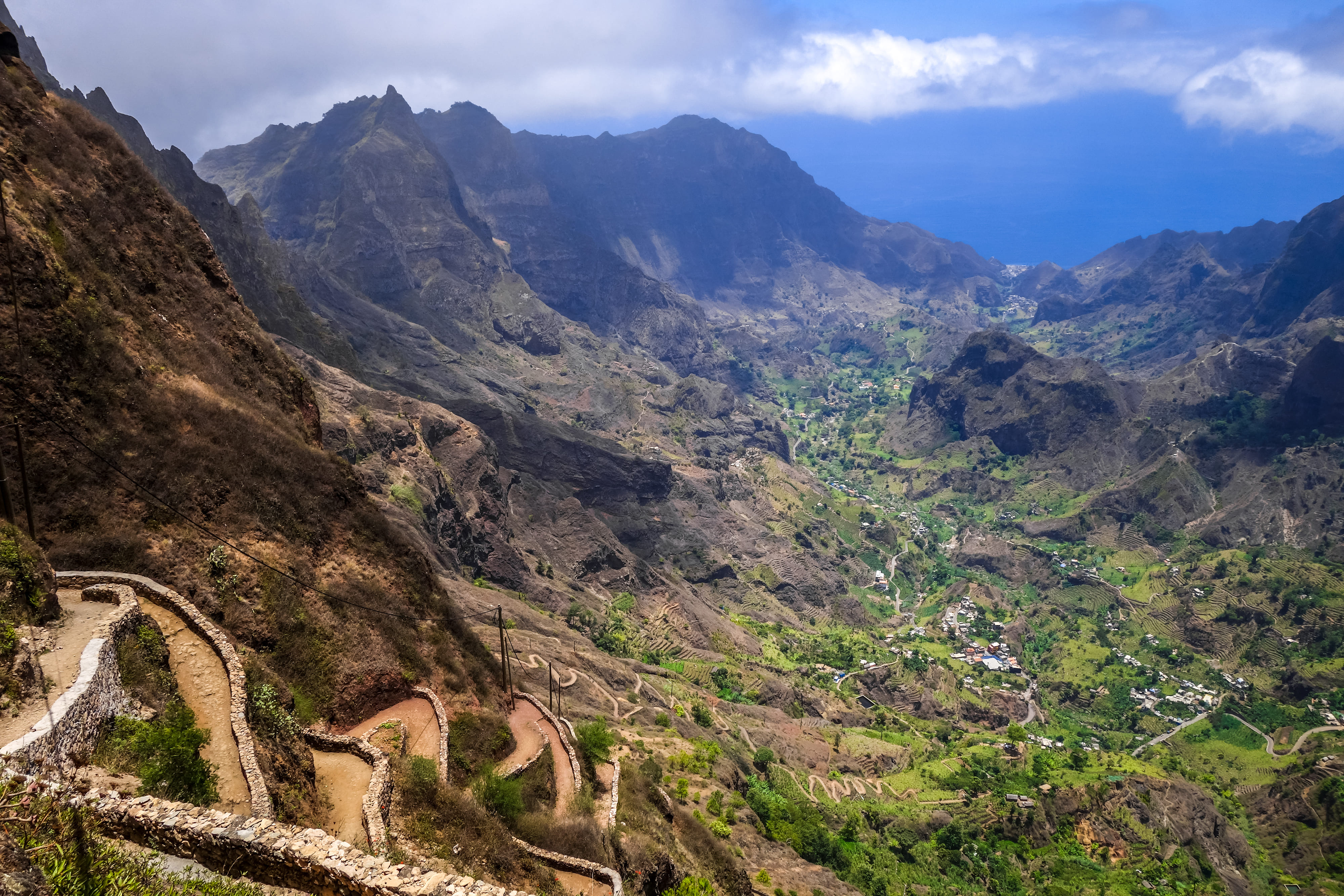 Support services
Guided tours are available, where local experts share fascinating stories about the volcano's history, the island's culture, and the unique ecosystem within the crater
Precautions
Hydration, sun protection and comfortable footwear should be taken into consideration.
Famous Trails of Santo Antão
Trail of Vale do Paúl (Paúl)
Trail from Pinhão to Lombo Branco and Sinagoga (Ribeira Garça)
Trail from Ponta do Sol to Cruzinha (Ribeira Garça)
Trail from Tarrafal to Monte Trigo (Porto Novo)
Trail from Vale da Ribeira da Torre, Xôxô to Ribeira Grande (Ribeira Garça).
Thousand enchanted hikes: where nature and adventure come together to capture hearts
Cape Verde is synonymous with unique natural beauty. The idyllic scenery always provides a stage for exceptional experiences. Cape Verde, with its ten islands, is full of hiking trails that promise to delight nature sports enthusiasts. Taking a trail on any of the archipelago's islands is experiencing the essence of Cape Verde.
Trekking Trails
Ponta de Sol Route - Island of Santo Antão
Vila Maria Pia, Ribeira Grande
Difficulty level: Difficult
Distance: 14.2 km
Vale Route - Island of Santo Antão
Vila das Pombas, Paul
Difficulty level: Difficult
Distance: 5.1 km
Fogo Peak - Island of Fogo
Fogo Natural Park
Difficulty level: Difficult
Distance: 8.2 km
Riu Karamboa to Sal Rei - Island of Boa Vista
Boa Vista
Difficulty level : Easy
Distance : 4.8km
Tarrafal - Monte Trigo - Island of Santo Antão
Tarrafal, Porto Novo
Degree of difficulty : Difficult
Distance : 13km
Chã das Caldeiras - island of Fogo
Mosteiros, Santa Catarina do Fogo
Difficulty level: Moderate
Distance: 12.4 km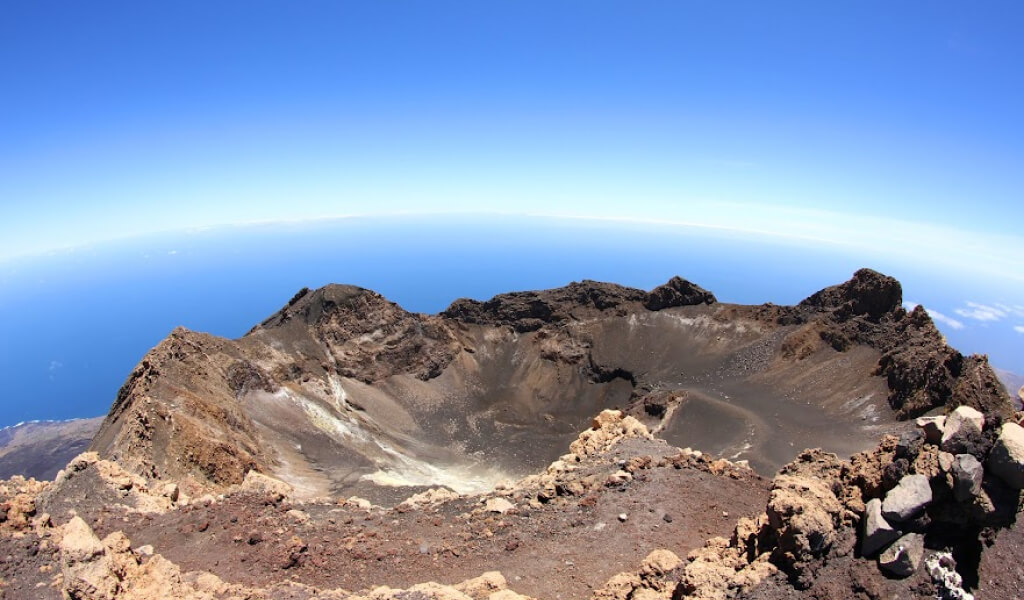 Running Trails
Fogo - Island of Fogo
Chão das Caldeiras
Distance : 8.99 km
Elevation gain: 1011m
Rincão - Island of Santiago
Grutas Águas Belas
Distance : 11.47 km
Elevation gain : 301m
Ribeira Seca - Island of Santiago
Ribeira Seca
Distance :10,25km
Elevation gain:113m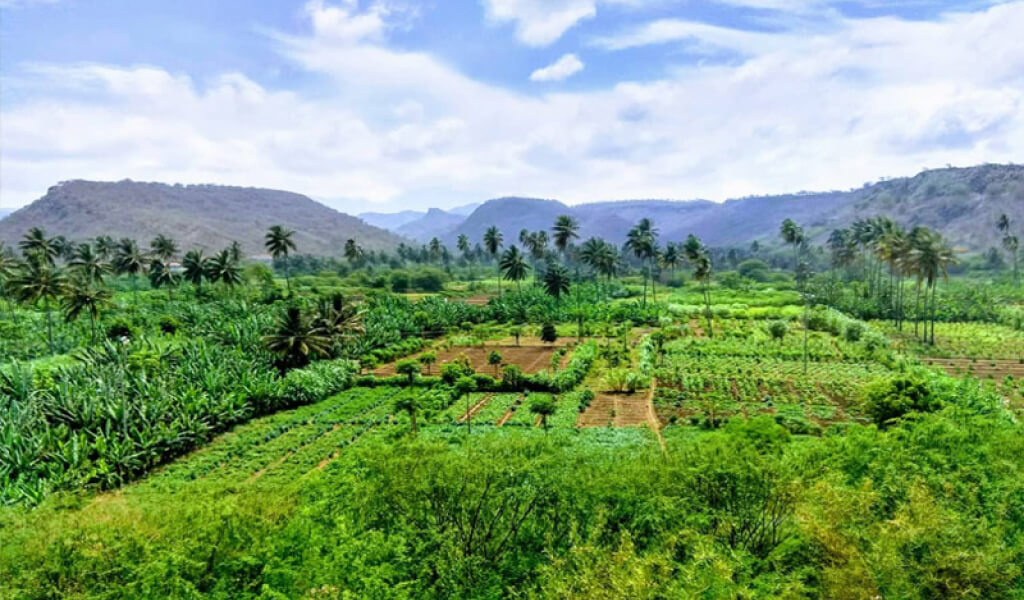 Walking Trails
São Pedro - Island of São Vicente
Dona Amélia Lighthouse, São Vicente
Degree of difficulty : Easy
Distance :6km
Vila Ribeira Brava - Island of São Nicolau
Cachaço
Degree of difficulty : Difficult
Distance :10.5km
In addition to these routes, many others can be enjoyed. Scattered across each island, there are trails that cater to all tastes and physical abilities. However, they all have in common the ability to leave magnificent images imprinted in the memory of those who dare to truly know Cape Verde.
Explore Cabo Verde
Sun and beach, mountain trails, landscapes of a nature that so easily springs up everywhere and a wealth of customs and traditions that does not translate into any price: Cabo Verde is a paradise that rests by the sea.
With the morabeza of the people and the magic that is only found in Islands of sun and sea, this archipelago is a universe of experiences to discover.
Flavors, smells and colors permeate memories and here you can feel the warm breeze on the skin and the sweetness of life.
Travel Wise
Getting to know a new country is synonymous with new adventures. Each country is a country. It is a different culture, with its own laws, customs, tastes and peculiarities distinct from any other part of the world.
Preparing your trip in advance can save you some challenges.
Here you can find the most frequent questions of travelers and some tips so that you can get to know the country smoothly.
Newsletter
Sign up for our newsletter and discover travel experiences you'll really want to try.