Boa Vista Island
Germano Almeida, a writer born in Boa Vista, wrote about his fantastic island, recalling the "beaches of coarse white sand, where the sea is deep, calm and clear; beaches of light gravel and strong waves and also beaches that are still as if they were lakes or simple pools of water.
620 km²
Total area
390 m
Pico D'Estância is the highest point of the island
GPS
16° 5' N, 22° 50' W
6.000
People
The Island of Boa Vista is a haven for morna music, surrounded by warm waters and white sands.
Portraits of Boa Vista invariably depict the white sands of sprawling beaches with palm trees, crafting a bucolic living postcard that leaves no soul untouched.
A staggering 55 kilometers of uniquely bright sands contrast against the azure waters unique to Cape Verde.
But the warmest aspect of Boa Vista is its people, who carry 'morabeza' in their hearts, a spirit of genuine hospitality and kindness that blankets the entire archipelago.
Abri nôs porta, abri nôs koraçon - "Open our doors, open our hearts."
'Morabeza' is more than just a word; it's a way of life, a reflection of the innate and genuine kindness of the Cape Verdean people towards others
History, geography, and culture of Boa Vista
Though named an island, Boa Vista is graced with several enchanting islets that open up to a myriad of activities, both recreational and sports-oriented, for all those seeking a warm embrace. Notably among these are:
Ilhéu de Curral Velho,
Ilhéu dos Pássaros,
Ilhéu de Sal Rei, and
The Fort Duque de Bragança.
Of all the islands in the Cape Verde archipelago, Boa Vista is the closest to the African mainland, as it lies the furthest to the east and is a mere 455 kilometers away from the African coast.
Some of the Most Significant Landmarks of the Island are the acclaimed 7 wonders, which include:
Mount Santo António
The second-highest peak of Boa Vista Island, standing tall at 379m;
Rocha Estância
A mountain reaching 357 meters in height, nestled near Povoação Velha;
Buracona
An unmissable natural sea cave at Varandinha beach;
Baía de Sal Rei
A haven for windsurfing, kiteboarding, and surfing enthusiasts;
Praia de Santa Mónica
Renowned as the Island's largest with 11 kilometers of white sands and inviting waters for a swim;
Deserto de Viana
The largest desert of the archipelago with its moon-like landscape, a must-visit; and
Turtle Natural Reserve
At João Barrosa beach, a research hub for scientific studies, marking and rescuing nesting females, and safeguarding nests.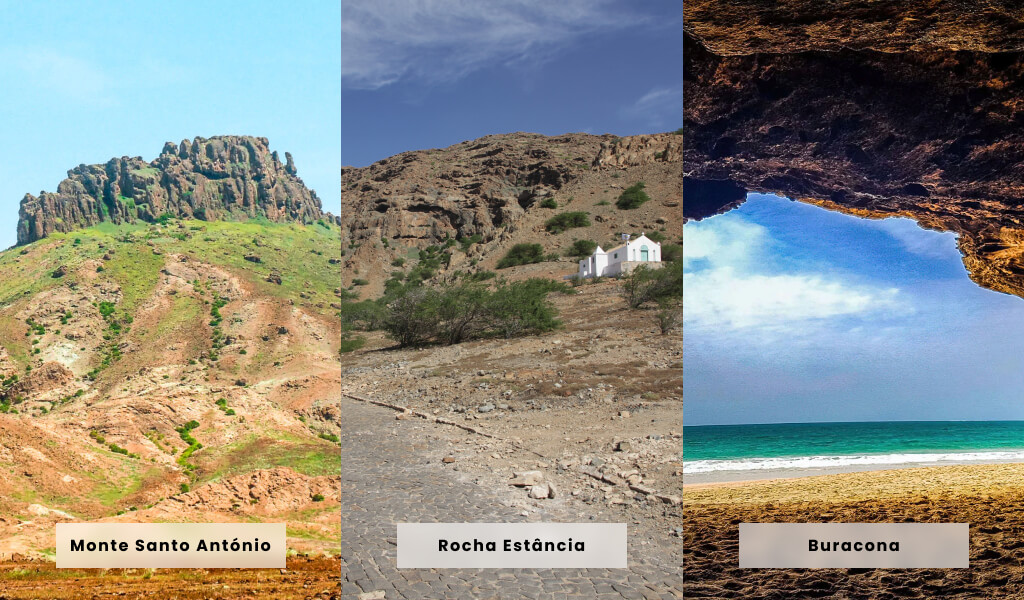 Boa Vista was unveiled to the world in the 15th century, in 1460, by Portuguese explorers. The salt extraction, livestock raising, and ensuing trade spurred its occupation and settlement.
The island's capital, Sal-Rei, holds significant vestiges of colonial architecture, beckoning travelers on a journey through time.
With its highest elevation at 390m (Mount Estância) spanning 620 square kilometers, Boa Vista shelters at its heart a mesmerizing dunes oasis. Noteworthy are the fossil dunes in the island's Northwest.
The tranquility of Boa Vista
The capital of Boa Vista, Sal-Rei, is most likely the first stop for any visitor to the island and instantly embraces everyone with the 'morabeza' that characterizes its people.
In the 18th century, salt was a vital commodity for the economy of the entire region, and it's from this heritage that the city got its name.
Today, several traces of salt pans stand as a testament to a history of economic success and development.
Quiet with minimal traffic, Sal-Rei is pure leisure and tourism, offering an immediate taste of morna music and the island's traditions.
Its people, who are gifted hosts, are its heart and soul. While the beaches are breathtaking, it's the people who truly capture the hearts of those who visit.
Here, life unfolds with utmost simplicity, centered around its harbor, tuna fishing, and lobster catching.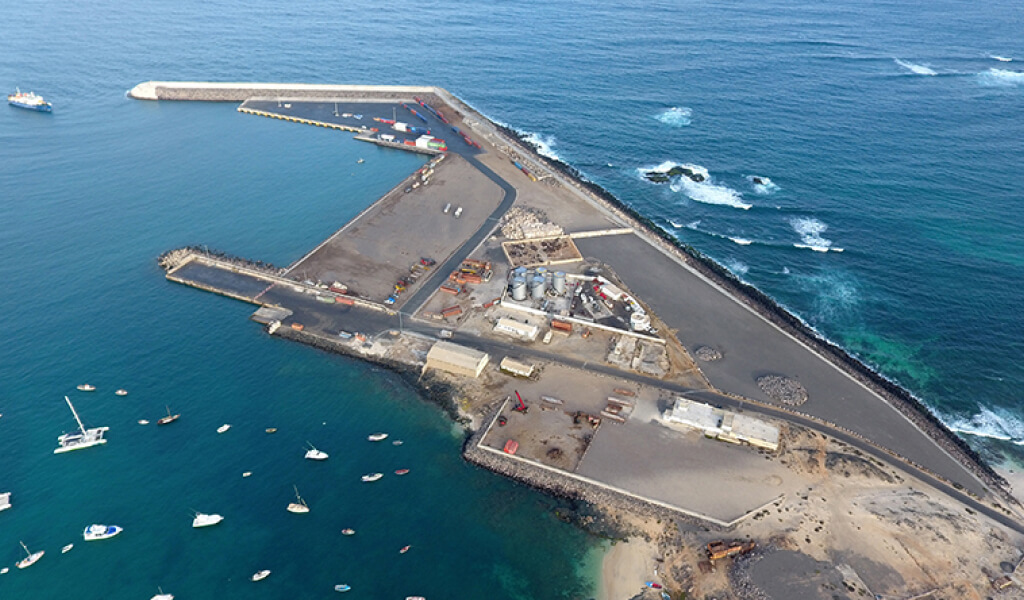 In the distance stands the islet of Sal-Rei, or Djeu, which holds memories of its history in the ruins of the former Fort of Duque de Bragança, built as a defense against pirate attacks.
A land of enchantment, Sal-Rei greets its visitors with the essence of Cape Verdean culture and hospitality, featuring colorful architecture, a museum that narrates the island's history and culture, and numerous water sports and activities available at its beaches.
The Shipwreck Museum deserves a special mention - Constructed from white limestone and volcanic rock, its interiors are adorned with mosaics, stained glass, paintings, and sculptures that narrate the history of the Cape Verde islands.
In this island of dunes, at the foot of Rocha Estância mountain, lies the birthplace of Boa Vista's history – a village named Povoação Velha.
Indeed, it's a place of significance, as it served as the island's capital until 1810. Being the first to be populated, today it's a quaint and serene village.
Nearby lies one of Cape Verde's finest beaches, the expansive Santa Mónica beach, home to the Chapel of Santo António and the Church of Our Lady of Conception.
Boa Vista's coast also pays tribute to its oldest fishing village.
Curral Velho, now a deserted village, stands with ruins hinting at a prosperous past in fishing and salt trade. One can still see hand-built stone houses and even gather medicinal salt from Curral Velho's salt pans.
Close by, Curral Velho beach emerges as a pristine oasis of untouched beauty, simply magnificent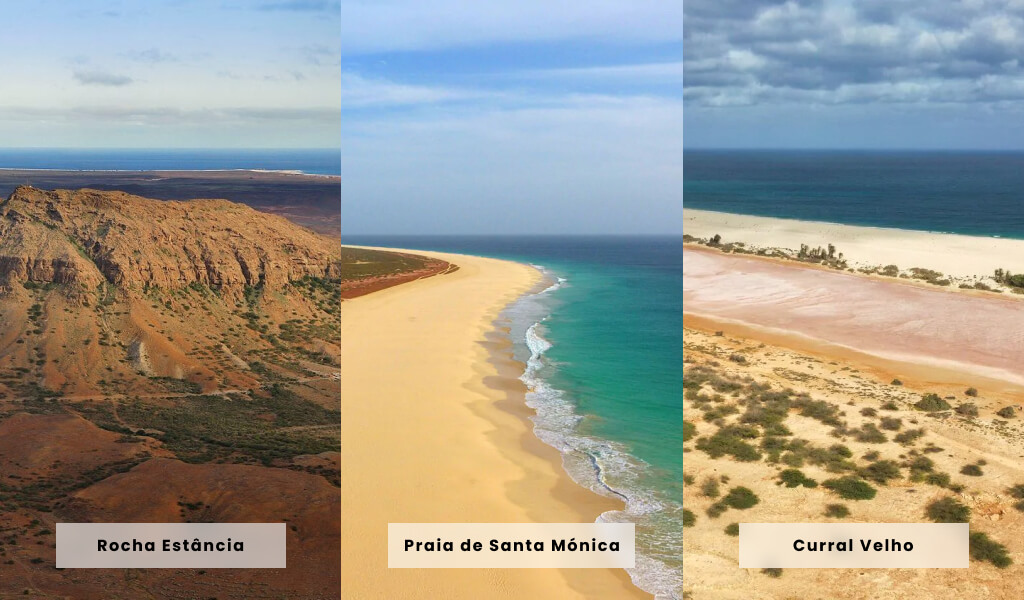 Located further inland on the island, in the central-west part of Boa Vista, we find Rabil, a village whose houses still retain their old structures.
In its vicinity, we have Boa Vista's Airport and Chaves Beach, where stands the chimney of what was once an important ceramics factory that exported to several countries in West Africa.
The art of clay molding is still preserved here at the Boa Vista pottery school, where you can learn how clay is extracted and observe the manual work.
Further inland, and crossing the North Valley, the contours of the landscape change dramatically to a more desert-like scene.
The northern villages, namely João Galego, Fundo das Figueiras, and Cabeça dos Tarafes, offer color, floral scents, and 'morabeza' to those passing through.
Near Cabeça dos Tarafes is one of the most beautiful natural lakes in the Archipelago, Odjo d'Mar.
Its clean, fresh waters become even more prominent after rainy days, making it an ideal spot for a picnic. Also near this village, we find Morro Negro with an elevation of 156m. Atop sits a lighthouse built in 1930, standing 12 meters tall with a range of 31 nautical miles.
Small in size, the parish of São João Batista, which includes the locality of João Galego, consists of only a main street (Rua D´reita).
Prominent on this street are mural paintings honoring Amílcar Cabral at the local cultural center.
Here, agriculture and livestock farming are the main local activities, resulting in trade throughout Boa Vista.
Cheese is also a highly traded product among the northern folks. A trademark of the João Galego locality.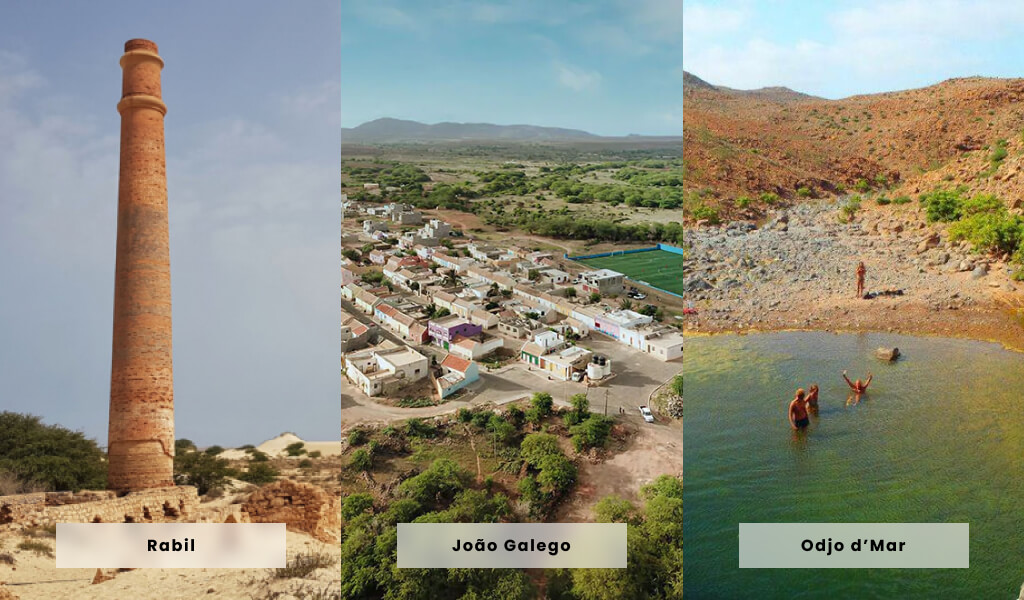 Tranquil, hospitable, and cheerful. That's how Boa Vista introduces itself!
Especially in the summer, with the arrival of the most popular holidays!
Independence Day, the feast of Santa Isabel, and the Cruz Beach Festival - events that create memories for thousands of people every year.
The Feast of Santa Isabel (patroness of Sal-Rei) offers a variety of activities, including Holy Mass, dances, horse races, regattas, and football tournaments, as well as traditional events like pegâ kéda, miron, and kortâ-góle-kabésa.
Beaches of pure white sand
On the island of Boa Vista, there are unique beaches where the turquoise blue of the immense Atlantic Ocean stands out against undulating sands that resemble a desert.
The beaches of Boa Vista, untouched and perfect for activities like diving, kitesurfing, windsurfing, and snorkeling, are considered among the most beautiful in Africa.
Beaches of Boa Vista:
Praia Diante
Located near Sal Rei, this small and calm beach is where fishermen can be observed returning from their catch. It invites you to a magical sunset.
Praia de Santa Mónica
Surrounded by untouched nature and impactful waves, it's one of the wonders of Cape Verde. It spans over 11 km in the southwest of the island.
Morro de Areia
A natural reserve covering the island's southwest coast that offers coastal cliffs and kilometers of dunes diving into the ocean.
Praia de Varandinha
A paradise with a wild ambiance, it's marked by rocks among which stands a natural cave overlooking the sea, known as Bracona.
Praia do Lacacão
One of the most beautiful beaches of Boa Vista, where you can see endless stretches of sand and a fierce, rebellious sea.
Ervatão
An ideal beach for water sports enthusiasts, especially windsurfing and kitesurfing. Here, one can observe turtles nesting.
Cabo Santa Maria or Praia da Atalanta
This is where a Spanish cargo ship has been stuck in the sands for 50 years, now a symbol of Boa Vista and Cape Verde.
Lunar Landscape: The Desert
In the north and west of the island, the landscape continues to astonish with its extensive dunes that, in unison with oases of date palms and coconut trees, paint a desert-like scenario, exemplified by the Deserto de Viana.
With only 1 km in length and about 5 km in its natural and silent extension, the lunar landscape of the Deserto de Viana is characterized by the formation of true desert dunes up to 50 m high.
These dunes are sculpted by the constant winds sweeping the island, interspersed with sparse vegetation and volcanic rocks, which sprinkle the white sand with dark grains.
From here, it seems a rainbow of colors rises, with the quick passage of clouds projecting onto the ground an almost hypnotic alternation of light and shadow.
The night in this desert brings a surprise for those who dream of a lunar walk in the desert. It's truly unforgettable!
POCKET GUIDE TO THE ISLAND OF BOA VISTA
Boa Vista Island is the third largest island in Cape Verde and one of the main tourist destinations, a status afforded by its extensive white sandy beaches, calm sea, and its dreamy scenic cuts.
See below a quick summary of some of the most relevant attractions on the Boa Vista Island:
Sun and Beach Attractions: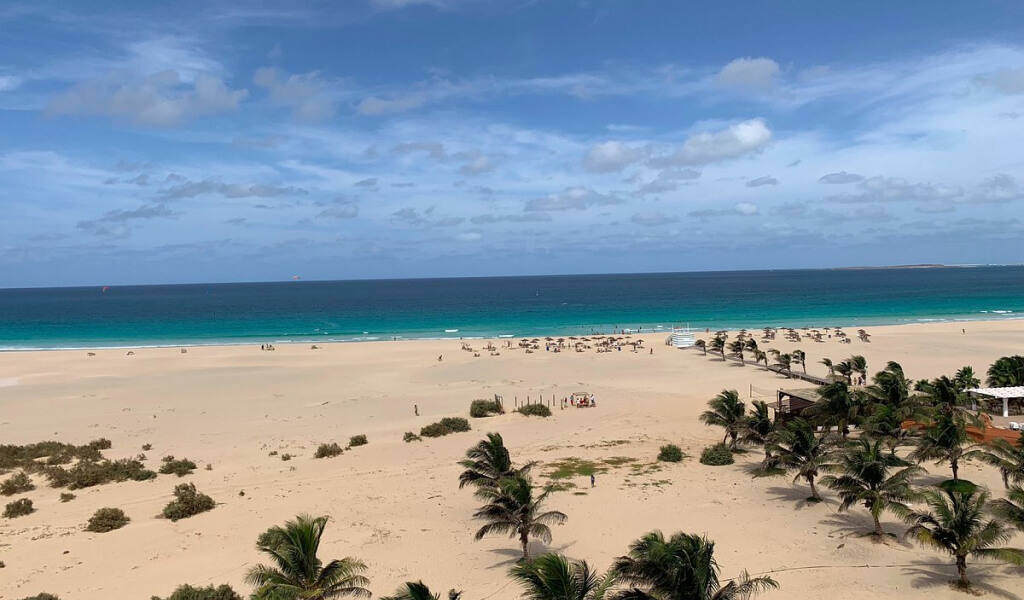 Lacacão Beach (Povoação Velha)
Morro de Areia Beach (Sal Rei)
Gatas Beach (São João Baptista)
Abrolhal Beach (São João Baptista)
Agostinho Beach (São João Baptista)
Atalanta Beach (Cabo Santa Maria)
Boa Esperança Beach (Cabo Santa Maria)
Braca Beach (São João Baptista)
Bracone Beach (Povoação Velha)
Cabral Beach (Sal Rei)
Calheta Beach (São João Baptista)
Calheta Formosa Beach (Povoação Velha)
Carlota Beach (Sal Rei)
Carqueijinha Beach (Povoação Velha)
Carreto Beach (São João Baptista)
Chaves Beach (Sal Rei)
Coma Beach (Sal Rei)
Copinha Beach (Povoação Velha)
Cruz Beach (Sal Rei)
Cruzinha Brito Beach (Povoação Velha)
Curral Mateus Beach (Sal Rei)
Curral Velho Beach (Povoação Velha)
Curralinho Beach (Povoação Velha)
David Beach (Sal Rei)
Diante Beach (Sal Rei)
Ervatão Beach (Povoação Velha)
Estoril Beach (Sal Rei)
Farrapa Beach (Povoação Velha)
João Barrosa Beach (Povoação Velha)
Lancha Beach (São João Baptista)
Marmeleiro Beach (Sal Rei)
Medronho Beach (Povoação Velha)
Mosquito Beach (São João Baptista)
Santa Mónica Beach (Povoação Velha)
Sobrado Beach (Costa Boa Esperança)
Varandinha Beach (Povoação Velha)
Praiona (Ponta Carreto)
Nature and Adventure Attractions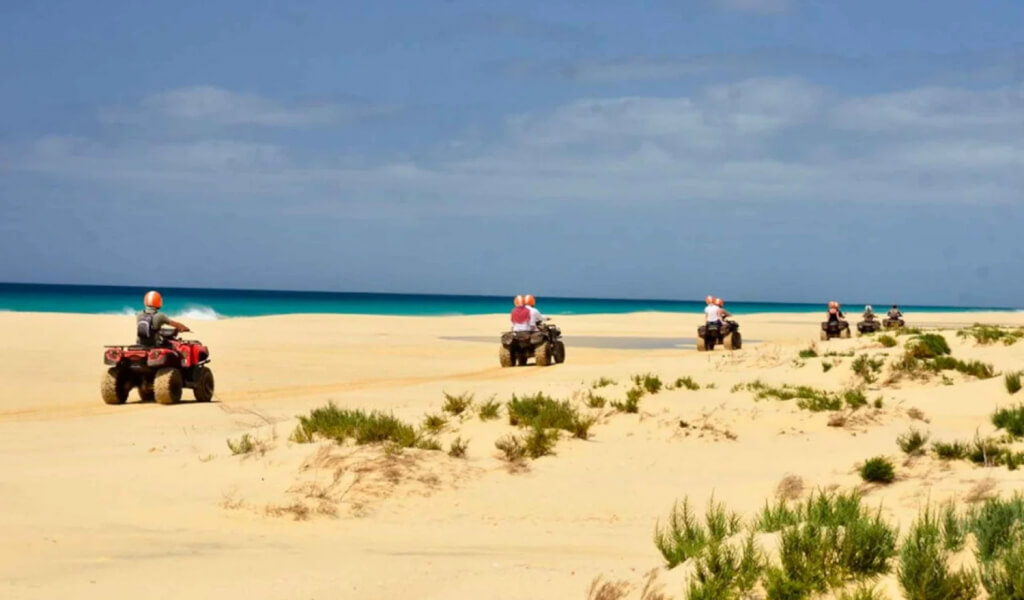 4x4, Moto Quad and Buggies (Morro Areia, Santa Monica, Deserto de Viana e Cabo Santa Maria)
Antigas Salinas - Boca de Ribeira (São João Baptista)
Ponta Antónia Bay (São João Baptista)
Sal Rei Bay (Sal Rei)
BTT
Cabeça de Tarafes (São João Baptista)
Hikings
Viana Desert (Estância de Baixo)
Turtles nesting (Lacação, Curral Velho, João da Rosa, Ervação, Porto Ferreira,
Canto & Calhetinha)
Djeu (Sal Rei)
Chaves Dunes (Sal Rei)
Vicente Fount (Curral Velho)
Fundo de Figueiras (São João Baptista)
Buracona Cave (Praia da Varandinha)
Praia de Cruz Cave (Sal Rei)
Baluarte Islet (São João Baptista)
Curral Velho Islet (Curral Velho)
Roque Islet (São João Baptista)
Sal Rei Islet (Sal Rei)
Pássaros Islet (Praia das Gatas)
Cabeça de Salinas Lagoon
Rabil Lagoon (Rabil)
Varandinha Lagoon (Povoação Velha)
Maciço Rochoso de Rocha Estância (Povoação Velha)
Mount Caçador e Pico Forcado (São João Baptista)
Mount/Pico Santo António (Sal Rei)
Conde and Morro Condinho Knoll (Povoação Velha)
Areia Knoll (Sal Rei)
Calhau Knoll (São João Baptista)
Farrapo Knoll (Povoação Velha)
Negro Knoll (São João Baptista)
Shipwreck Cabo de Santa Maria (Sal Rei)
Whale watching (Sal Rei)
Bird watching (Ilhéu de Curral Velho e Ilhéu passaros)
Star watching in the desert (Deserto Viana)
Odjo D'Mar (São João Baptista)
Natural Park of North (São João Baptista)
Horse Ride (Praia Chaves)
Passo de Conde (São João Baptista)
Ponta de Ajudante (Curral Velho)
Ponta de Roque (São João Baptista)
Ponta Varandinha (Sal Rei)
Nature Reserve of Boa Esperança (Sal Rei)
Nature Reserve of Ponta do Sol (Sal Rei)
Nature Reserve of Turtles (Ervação)
D´Água Stream (Sal Rei)
Ervatão Stream (Ervatão, São João Baptista)
Spingueira Stream (Bufareira)
North Stream - Campo de Serra (São João Baptista)
Route 66 (Estrada do Norte)
Ultramaratone
Nautic Attractions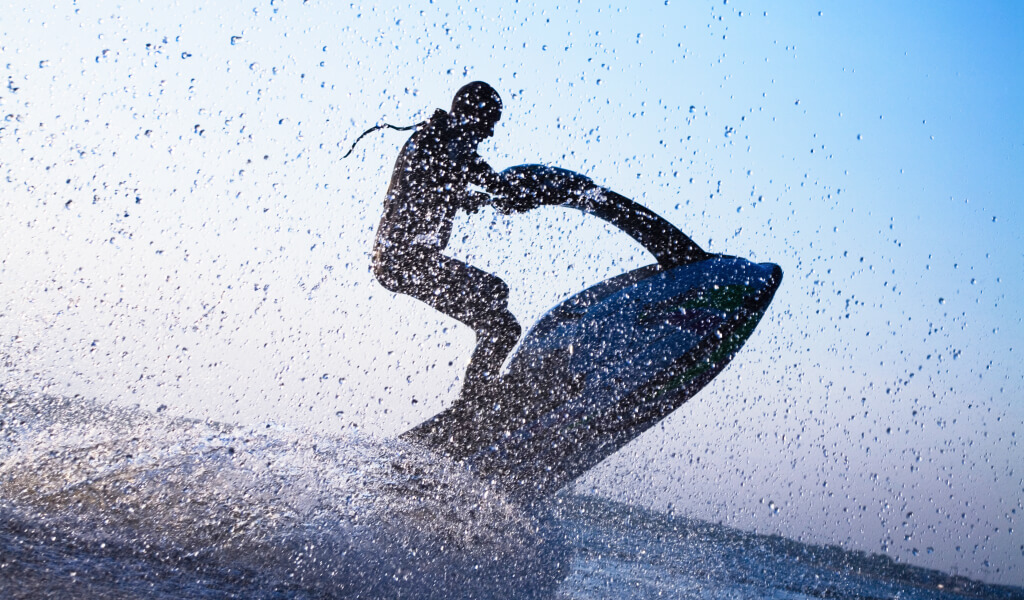 Bodyboard (Sal Rei)
Kiteboard (Sal Rei)
Kitesurf (Sal Rei)
Scuba Dive (Sal Rei)
Jet Ski (Sal Rei)
Whale Watching (Sal Rei)
Boat rides (Sal Rei)
Sport Fishing
Snorkeling (Praia das Bagas e Ilhéu)
Stand-up paddle (Sal Rei)
Surf (Sal Rei)
Windsurf (Sal Rei)
Cultural Attractions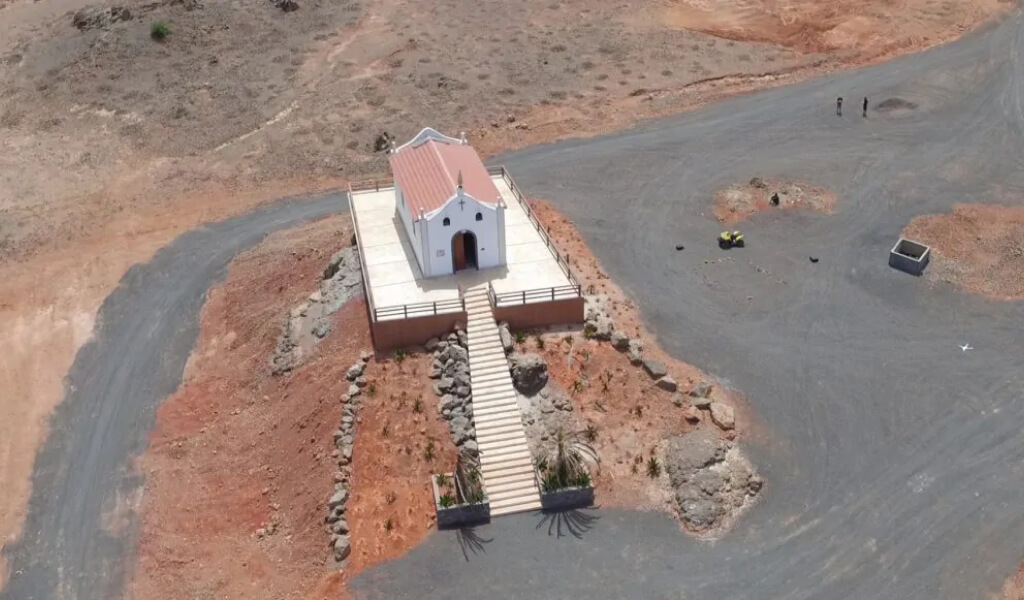 Bofareira (Sal Rei)
Cabeça dos Tarafes (São João Baptista)
Fátima Chapel (Sal Rei)
Sto. António Chapel (Povoação Velha)
Chaminé de Chaves (Sal Rei)
Estância de Baixo (Sal Rei)
Ceramic Factory (Praia de Chaves) (Sal Rei)
Terracota of Rabil Factory (Sal Rei)
Morro Negro Lighthouse (São João Baptista)
Cruz D'Nho Lôl Festival (Estância de Baixo)
Pedrona Festival (Rabil)
Santa Isabel Festival (Sal Rei)
São João Baptista Festival (São João Baptista)
Nossa Sra Piedade Festival (João Galego)
Duque de Bragança Fort (Sal Rei)
Fundo das Figueiras (São João Baptista)
Museum of Arqueology (Sal Rei)
Museum of Shipwreck (Sal Rei)
Shipwreck MS Cabo Santa Maria (Sal Rei)
Povoação Velha (Sal Rei)
Povoação Velha (Sal Rei)
Sal-Rei (capital) (Sal Rei)
Tombs inBenoliel (Sal Rei)
Other Informations about Boa Vista island

There are various hotels on Boa Vista Island that cater to all tastes.
From resorts that offer attractive tourist packages and guarantee that there's no need to even leave the hotel, to options closer to people and culture with cozy bed and breakfasts and local accommodations.
On the island, the main mode of transportation is provided by local guides with their own cars or by taxis.
For the more adventurous, it's always possible to rent a car. In this case, it's important to plan out the most direct routes in advance.
Explore Cabo Verde
Sun and beach, mountain trails, landscapes of a nature that so easily springs up everywhere and a wealth of customs and traditions that does not translate into any price: Cabo Verde is a paradise that rests by the sea.
With the morabeza of the people and the magic that is only found in Islands of sun and sea, this archipelago is a universe of experiences to discover.
Flavors, smells and colors permeate memories and here you can feel the warm breeze on the skin and the sweetness of life.
Travel Wise
Getting to know a new country is synonymous with new adventures. Each country is a country. It is a different culture, with its own laws, customs, tastes and peculiarities distinct from any other part of the world.
Preparing your trip in advance can save you some challenges.
Here you can find the most frequent questions of travelers and some tips so that you can get to know the country smoothly.
Newsletter
Sign up for our newsletter and discover travel experiences you'll really want to try.